This article is more than 1 year old
Fiorina.com goes live ahead of non-stop book tour
Lookin' good, relaxed and tough
Ever the marketing whiz, Carly Fiorina has set up a non-stop touring schedule and flash web site to promote her soon-to-be-released epic Tough Choices.
Fiorina recently popped up on carlyfiorina.com, looking as good as ever. The former HP CEO bedazzles in one of her signature suits and does things to an office chair that Mark Hurd can only dream about. Just to the right of the jovial seated Carly, you find a sterner version of Fiorina - the version that lends gravitas to the tell all book.
[God, how we long for the days when entire paragraphs could be spent gabbing about the CEO's clothes - Ed.]
Little detail has been released about Tough Choices to date. All you'll find is this blurb from Fiorina's publisher Penguin.
Tough Choices will finally reveal the real Carly Fiorina, who writes with brutal honesty about her triumphs and failures, her deepest fears and most painful confrontations—including her sudden and very public firing by HP's board of directors.

It's an amazing life story: Fiorina was a liberal arts major and law school dropout who didn't even consider a business career until her mid-twenties. But soon she was blazing through big jobs at AT&T and then Lucent Technologies, with a growing reputation as a creative, hardworking, visionary leader. Her career path would have been remarkable for anyone, but in an industry dominated by men, it was unprecedented.

Tough Choices shows what it's really like to lead a major corporation in a time of great change while trying to stay true to your values. It's one woman's inspiring story, along with her unique perspective on leadership, technology, globalization, sexism, and many other issues.
The publisher has refused to provide advance copies of the book to the press.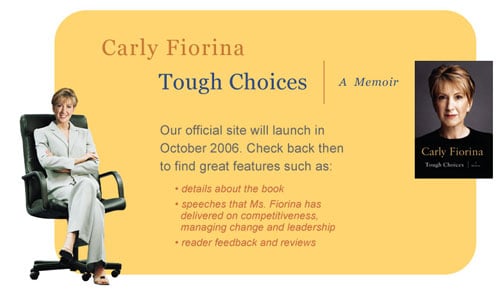 Fiorina will chuck out the shy approach come October when the book hits the shelves.
She speaks in Washington D.C. on Oct 13, New York on Oct. 15, Mountain View on Oct. 19, San Francisco on Oct. 20, Seattle on Oct. 23, Chicago on Oct. 25, Milwaukee on Oct. 27, Los Angeles on Oct. 30 and Virginia on Nov. 16. We're sure a few dates escaped our gogoling skills.
Lucky for Fiorina, HP has hit its stride just as her book comes out, prompting some hagiographers to suggest that the Compaq buy - and Fiorina's foresight - primed HP for this glory. Of course, firing about 30,000 people over the past few years helps make the bottom line look pretty solid.
Carly, a fellow Texan, turns 52 next week on the same day that your reporter flips the numbers. We'll be sure to wear our Fiorina signed HP shirt on that special day. ®