This article is more than 1 year old
Tomkitten's first poop immortalised
A work of art
Tom Cruise and Katie Holmes (aka TomKat) have kept 19-week-old daughter Suri well out of the public eye, but the world was given an unusual preview of the much-speculated over sprog with a bronze cast commemorating her first poop popping up on eBay.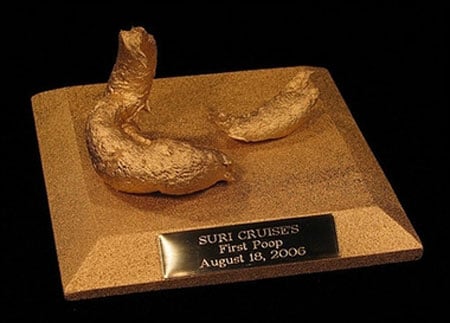 The life-size replica poop, a work of Daniel Edwards, the same artist that brought us the controversial nude Britney Spears birthing sculpture, is currently being shown at the Capla Kesting gallery in Brooklyn, New York, while the auction is taking place.
At time of writing, bidding for the repro stool stood at $7,000. The auction is running till 9 September, with all proceeds of the excretion going to charity.
According to Stuff.co.nz, gallery director David Kesting said: "A bronzed cast of baby's first poop can be a meaningful memento for the family. A baby's first meal of solid food may be a baby's first meal at the dinner table."
The Capla Gallery insists the sculpture - which was also reportedly based on the popular children's book Everybody Poops - has great depth and is actually a social comment on the culture of celebrity.
A spokesman told the site: "It's partially a statement on modern media that 'celebrity poop' has more entertainment value than health, famine or other critical issues facing society and governments today."
For the record, one eBayers question as to whether the sculpture actually is Suri's poop that has been encased in bronze, was answered thus: "Unfortunately, organic material burns in the heat required to cast bronze. Therefore, Daniel Edwards rendered her first solid defecation as close to the artistic eye as possible." So, we guess that means this is more of tribute poop than anything else.
Lovely.
For those that miss out on the auction, a limited number of plastic replicas will also be up for grabs. ®