Mobile email is now an established business tool. It is hard to find an organisation of any size that hasn't introduced it into at least some part of the business, and momentum has started to gather among smaller companies also. If you're not using it yourself, you'll probably know someone who is.
Yet in the latest Reg Barometer survey, despite handheld mobile solutions being rated in the top five emerging technologies, the level of knowledge of mobile solutions among readers was pretty variable (see figure).
Many of you reading this will therefore be gurus, with some of you at the other extreme looking to learn, and quite a few in the middle, maybe getting stuck into your first mobile project or rollout and trying to work your way through the issues as they arise.
Wherever you are in this spectrum, we'd like to hear from you. After giving you a bit of background information and highlighting some of the key issues in this fast moving area, we'll invite you to join the debate with your questions, comments, opinions and advice.
So what's been going on with mobile email lately?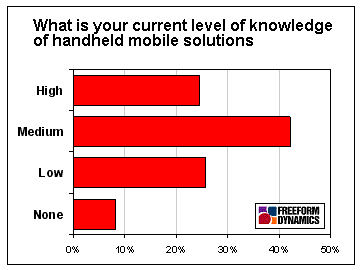 Push email comes of age: The original killer application for wireless handhelds, push email, was introduced many years ago by Research in Motion (RIM) with the BlackBerry solution. The idea is that messages are relayed as soon as they hit your inbox on the server - much better than the old polling or dial-up approach.
But this kind of functionality is no longer restricted to the BlackBerry. Microsoft has introduced similar capability into Exchange and a range of other players, from Nokia at one end to specialists like Visto at the other, have introduced yet more alternatives, some of which have enabled mobile operators to offer their own branded services.
Today, the "push experience" is in theory available to any type of user on pretty much any type of device. But is this a reality? Has fully functional mobile email become truly multi-vendor yet or is BlackBerry still the only serious option?
Scaling it up: From a business adoption perspective, as the quality and capability of solutions has evolved, mobile email has started to move beyond "C" level executives to become a mainstream communications option for field-based employees. But, the rapid increase in scale of deployments can expose limitations in platforms originally put into place to support pilots and smaller scale rollouts. We'd be interested in any feedback and opinions from those with experiences in this area, particularly any advice to others who are planning or considering scaling things up to the next level.
Openness of technology: Beyond scalability, one of the other key considerations is the openness of mobile client and server platforms to permit custom developments, ease of integration, and access to applications other than email. Windows Mobile is claimed to be a fairly open and accessible platform for programmers, while Symbian is touted as the best from a standards perspective, with the BlackBerry often viewed as being a proprietary "one trick pony". Would you agree with these generalisations? We'd love to hear your thoughts in this area too.
Security: Any discussion of mobile technology wouldn't be complete unless it touched on security. RIM again led the charge here in the early days with end-to-end encryption and policy management allowing the type of control that IT departments have come to expect for large numbers of users. But some of you out there must be using other technologies, e.g. from Microsoft. How do they stack up from a security perspective? And what about other aspects of security – mobile malware, snooping, device high-jacking, etc? We read a lot of such things in the press, but are these threats real?
Business matters: Broadening the debate, there are interesting questions beyond technology. Given the attractiveness of mobile email, this killer app cannot be "uninvented", but what is the total cost of ownership likely to be for an organisation that decides to make it generally available as a tool to its users? And how do you quantify the benefits you get in return?
Those "softer" issues: Finally, what about the users themselves? Mobile email can be great for enhancing productivity, but it can also put a strain on social relationships both in the office and at home. Is there a social cost that responsible employers must consider of having staff who are constantly bothered both in and out of office hours by the vibrating mobile device? What about meeting etiquette, how do you stop people looking at mobile email when they get a notification? We'd love to hear your views on the social side of the mobile email revolution.
Lots of stuff to go at here in this highly dynamic area, and you may also have other issues apart from those raised above. If there is something on your mind that you want to tell us or ask about, get it off your chest and give us some feedback below. ®