US missile defence radar hits stormy seas
$815m behemoth flounders
---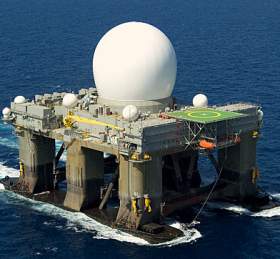 The future of the US's much-hyped, $815m Sea-Based X-Band Radar (SBX) platform is in serious doubt after a raft of sceptics expressed doubts that the sea monster could ever effectively operate in its intended final mooring off Alaska's Aleutian Islands.
The SBX - designed to detect incoming ICBMs - is currently wallowing in Hawaii after repairs necessitated by a light battering it received during its first ocean voyage from the Gulf of Mexico, Defencetech reports. Its eventual home is described by the Chicago Tribune as "unforgiving [stretch] of the Bering Sea where winter weather can be so violent that the islands have been nicknamed 'the birthplace of winds'."
And that's where SBX might come seriously unstuck. Philip Coyle, assistant secretary of defense from 1994 to 2001 in the Clinton administration, commented: "That radar is absolutely packed with sensitive electronics, and...salt water, wind and waves don't go well with sensitive electronics.
"The bottom line is that the designers of this system didn't begin to contemplate the realistic conditions under which the X-Band would have to operate. When you look at all the facts, you really have to wonder what the people who designed this thing were thinking..."
The Chicago Tribune specifies some of the platform's shortcomings, as contained in an independent assessment:
The sensitive radar...is mounted atop a vessel that might need to be towed to safety in the event of rugged Alaskan seas, but its one towing bridle likely would be underwater and impossible for a rescue ship to use anytime waves reached more than eight feet.
Although the SBX may be hundreds of miles away from support ships, it lacks a quickly deployable rescue boat in the event of a man overboard, does not have a helicopter landing pad certified for landing the most common US Coast Guard and Navy rescue helicopters, and its crews have not been trained "for heavy weather or cold-weather operations".
And, ironically, the X-Band, considered one of the nation's foremost technologies in defending against foreign missiles, has minimal security itself. Many critics speculate that it is vulnerable to attack by enemy nations or terrorist groups.
The SBX was due to take part in the US Missile Defense Agency's (MDA) current "full-scale test of the fledgling US ballistic missile defense system", as The New York Times puts it, but rather missed the boat since it's unlikely to set sail "at least later this fall".
Victoria Samson, of the Centre for Defense Information, put the boot in with: "This is no surprise and again demonstrates MDA's stubborn refusal to accept that engineering and logistical limitations can be just as damning as anything else the weapon systems can come up against." ®
Background info
GlobalSecurity describes the SBX thus: "Sea-Based X-band (SBX) Radar is the tracking and discrimination radar used for the Ground-based Midcourse Defense (GMD) system. SBX will consist of a large X-Band half-populated radar mounted on a modified fifth-generation semi-submersible platform with Battle Management Command Control and Communications, which will include In-flight Interceptor Communication System Data Terminals and associated communications; power generation; facility floor space; and infrastructure, similar to a fixed radar installation.
"The platform will be approximately 390 feet long, with a 238-foot beam, and an operations draft of approximately 75 feet. The height from water surface to the top of the radar dome will be 250 feet. The deck area will be approximately 270 x 230 feet. The SBX has a displacement of 50,000 tons."
More here.