This article is more than 1 year old
Nvidia launches GeForce 7950 GT and 7900 GS chips
Plugging holes in its product range
Nvidia has launched two new versions of its mighty GeForce 7900 graphics chip with the GeForce 7900 GS going on sale immediately and the GeForce 7950 GT hitting the shops on 14 September.
The two new chips fill a gaping chasm in the Nvidia product range between the GeForce 7600 GT at £100-£150 and the GeForce 7900 GTX at £265-£320 with just the GeForce 7900 GT bridging the middle at £190-£280.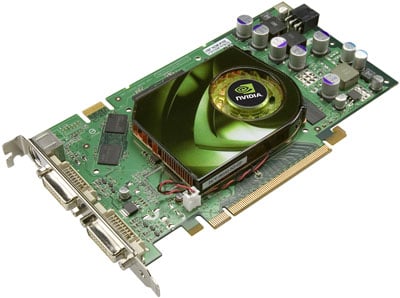 Nvidia GeForce 7900 GS
As of today, the GeForce 7900 GT is no more. It has ceased to be, and instead is replaced by the GeForce 7950 GT which has a core speed of 550MHz core and 512MB of DDR3 memory with a true speed of 700MHz (1400MHz effective). The 7950 GT has a 256-bit controller to give a 44.8GB/second memory bandwidth.
Internally the 7950 GT has 24 pixel pipelines and 8 vertex shaders which means that it is effectively a GeForce 7900 GTX with a ten per cent underclock.
The 7900 GTX currently sells for £265-£320 so we expect that the 7950 GT will be very popular at its projected price of £199.
Then we have the GeForce 7900 GS which has a 450MHz core, 256MB DDR3 running at 660MHz memory (1320MHz effective) a 256-bit controller and 42.2GB/second memory bandwidth. It has 20 pixel pipelines and 7 vertex shaders and is effectively a 7900 GT with fewer shaders but significantly cheaper.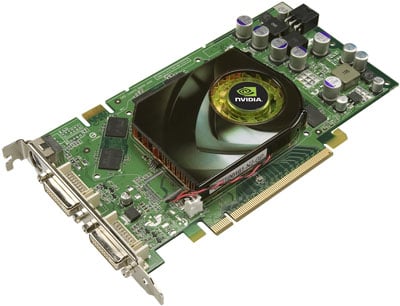 Nvidia GeForce 7950 GT
As you can see from the photos, the reference 7950 GT and 7900 GS look damn near identical. Both sport an SLI connector and support HDCP, providing the add-in board partner enables the feature.
Nvidis'a new product stack now looks like this: GeForce 7950 GX2 £350-£400 GeForce 7900 GTX £265-£320 GeForce 7950 GT expected at £199 GeForce 7900 GS expected at £149 GeForce 7600 GT £100-£150 GeForce 7600 GS £70-£100 GeForce 7300 under £50 ®