Toshiba and Memory Tech have developed a DVD disk with a third level of storage, which means it can record DVD and HD-DVD formats as well as a large amount of other information.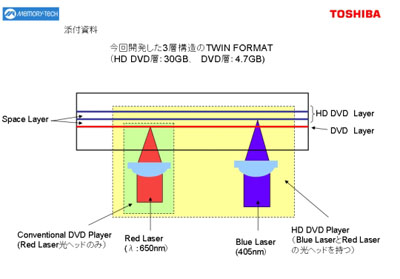 This means filmmakers can put two editions of the same film on the same disk - standard definition and high-definition - without worrying about reaching capacity.
The companies are set to propose the new disk to the HD DVD Forum, the industry body that defines DVD standards.
Disks that support both DVD formats were made available in Japan earlier this year, but they are limited in the amount of information they can hold.
The addition of a third layer on the TWIN DVD disk means more data (either HD or standard DVD) can be stored.
"We have been releasing TWIN Format titles since April," said Hideki Oyagi, general manager of Japanese visual entertainment company PONY CANYON. "We are getting positive feedback from the market, and our TWIN Format titles are selling better than anticipated." ®