Samsung has developed a 40-nanometer memory device, which it today claimed is the first of its kind.
The 32Gb NAND flash memory can be used in memory cards with densities of up to 64GB. One 64GB card can store over 64 hours of DVD resolution movies (about 40 movies) or 16,000 MP3 files (1,340 hours).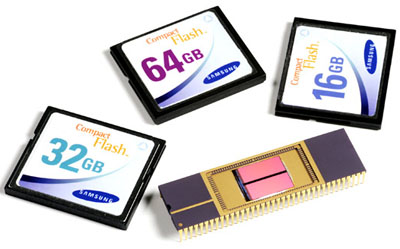 The flash device uses Charge Trap Flash (CTF) architecture, which improves the speed of a chip by reducing inter-cell noise levels. This has been made possible by a structure comprised of tantalum metal, aluminum oxide, nitride, oxide and silicon, Samsung officals said.
The company also today launched a new type of non-volatile memory called PRAM.
The prototype of Phase-change Random Access Memory (PRAM) could replace standard high-density NOR flash memory within the next decade, it said.
PRAM is said to be extremely fast in performance and easier to make than NOR flash. Because it can rewrite data without having to erase data previously accumulated, it is can be up to 30-times faster than conventional flash memory.
PRAM will be available in 2008, the company said. A 512Mb prototype device was unveiled in Seoul earlier today. ®