BBC staff in Ozzie bin Laden video spoof outrage
Heads likely to roll - boom boom!
---
BBC senior bosses are today reportedly "grilling" members of the BBC London news team who produced a "tasteless" spoof video version of (Is This The Way To) Amarillo? to mark a colleague's departure for Al-Jazeera International.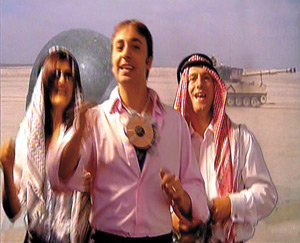 The skit features, according to The Daily Mail, "journalists, including transport correspondent Andrew Winstanley and reporter Sarah Harris...singing a spoof version of the hit song in tea towel head dresses and fake Arab-style beards, to a video backdrop featuring real-life news footage of missile launchers, tanks and soldiers in gas masks".
The video was shown last week at a private bash for assistant editor Simon Torkington who's off to Qatar with his wife, former ITV news anchor Shiulie Ghosh. It was subsequently leaked to London's Evening Standard by an insider "angry that licence fee payers' cash was used to make a 'tasteless' skit that could cause offence to Muslims".
The film is fronted by BBC London management chap Ian Wade (in pic, centre), and also features special correspondent Kurt Barling - "who has reported extensively on the issues facing Britain's Muslim community" - bare-chested and "dancing in a Muslim prayer hat".
Other protagonists in the outrage are news anchor Matt Barbet, arts correspondent Brenda Emmanus and reporter Karthi Gnanasegaram. The lyrics include the following:
When the day is dawning, On a muggy old Doha morning, How I long to be there, With Osama who's waiting for me there

Every lonely news room where I hang my hat, Ain't half as pretty, As where my Shiulie's at

Is this the way to Al-Jazeera? This is the end of the BBC era, Dreaming dreams of Al-Jazeera, And sweet Shiulie who waits for me

Is this the way to Al-Jazeera? I'm going to get paid lots of lira, Storky's off to Al-Jazeera

But the sand is blazing, Crown Prince Hamad bin Khalifa is waiting, Though it may be harder, I'll be reporting on the Intifada.

Just beyond the sand dunes, There's a world so new, Oh jilbabs and palm trees, And there's camel poo...
One insider is quoted in The Daily Mail as saying: "At a time of great community sensitivities, is it right for the BBC's reporting team in London to be seen dressing up as stereotypical Arabs or Muslims, singing and dancing?
"Is it right to see the Race in the Media Awards winner Kurt Barling appear without a shirt wearing a Muslim prayer cap and dancing? Would it go down well with his contacts? Does it show the BBC to be sensitive at a difficult time? The fact is that the staff who made and appeared in the video knew what they had done was open to criticism."
The BBC said in a statement: "The BBC was unaware of the nature of the content of this private and informal video as it was being made. A spoof of the well-known and much-parodied music video for Amarillo, this unofficial film is within the tradition of a teasing farewell to a departing colleague.
"It was made by his friends in their spare time and hastily put together. It was always intended solely for private viewing. Nevertheless, we think it was ill-judged, and we will be speaking with those involved and learning the lessons that need to be learned."
Given that The Sun has now got hold of the story, we don't think a quiet chat will suffice. Maybe a video of the quick decapitation of one of the protagonists posted on the Beeb's website might do the trick. Tasteless, yes, but surely a just punishment for a video which is, by anyone's standards, absolutely bloody awful.
Oh yes, and the insider who grassed up these merrimakers is quite right about the waste of licencepayers' money. Heads must roll. ®
Bootnote
To judge for yourselves just how tasteless the spoof video is, there's a link in the Mail's piece here. Don't say you weren't warned.