Sonnet Technologies is to launch a new line of dual processor upgrade cards for the PowerMac.
A CPU upgrade, from 1Ghz to 1.8 Ghz for example, can be a cheap way of increasing the performance of a machine without replacing everything.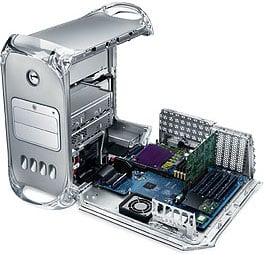 The the Encore/MDX G4 Duet 1.6 GHz and 1.8 Ghz are both designed for the G4 MDD (Mirrored Drive Door) and Xserve G4, and can be installed on either a tower or server.
The Encore upgrades are based on the ex-Motorola Freescale Semiconductor PowerPC G4 7447A processors, which have 512K of SRAM.
The cards are compatible with Mac OS 9.2, Mac OS X 10.3.5 and above. Each upgrade includes a heat sink, fan, and mounting bracket.
The cards are available in October at $500 for the 1.6 GHz version, and $600 for the 1.8 GHz version. ®