Those with a few pints under their belts on a Friday night can now gauge how much liquor they've consumed by using their iPod.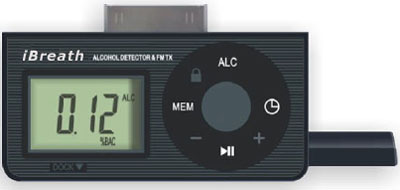 David Steele Enterprises is selling the iBreath – an alcohol breathalyser, which also has a wireless transmitter to send your tunes on to any FM radio.
To make use of the breathalyser, a user needs to fold out the "blow wand" and exhale into it for five seconds and the iBreath works out your level of alcohol consumption.
It comes in black or white and costs $79. ®