This article is more than 1 year old
MS intros Zune music service, Wi-Fi song sharing
Tight-lipped on prices, availability
Microsoft yesterday revealed what World+Dog already knew: what it's upcoming Zune-branded digital music player will look like. Yes, the star of US Federal Communications Commission filings and blurry, amateur-look picture leaks is official.
As expected, Zune will incorporate a 30GB hard drive and a 3in display. Unlike the iPod, it has a built in FM tuner. The hardware will ship with Zune Marketplace, Microsoft's iTunes alternative. It's here that device owners will be able to sample and buy song downloads - and check out tracks other Zune users have 'shared' with them.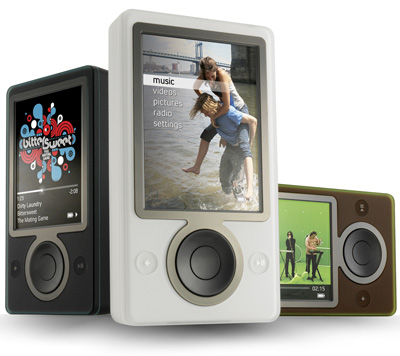 Yes, Zune has 802.11b/g Wi-Fi on board, over which users can transfer full-length song samples, which can be listed to no more than three times. However many times the tracks are played, they're wiped after three days. Whatever, it's still enough time to copy them in the analog domain.
The Zune store will support both the pay-per-download and all-you-can-eat subscription models, Microsoft said.
The software giant said it would introduce car, home and travel accessory packs when Zune ships. It also listed a host of accessory makers - all the familiar names from the iPod add-on arena - who have committed themselves to offering 'Made for Zune' products.
What Microsoft didn't reveal was the player's pricing, or when it will hit the shops. More to the point, given Apple's announcement this week, it didn't comment on claims it's planning to give away Zune-compatible versions of songs buyers may have acquired through iTunes. Maybe its label partners weren't too happy about that... Still, the device will ship with pre-loaded music and video content. ®