Apple's second-generation iPod Nano
More a remixed re-issue than a bold new album?
The new Nano is a step backwards, of course. A year ago, Apple made such a big deal about the risk of setting aside the popular iPod Mini in favour of the then new slimline Nano, but now we find it going back to the Mini look, right down to the metallic shell, rounded sides, white plastic top and bottom, and the colour scheme...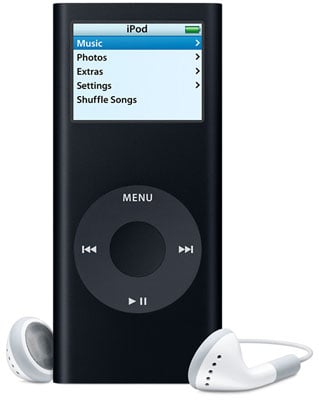 Of course, having established the black and white pairing and seen it emulated during the last 12 months by a thousand electronic devices, Apple has little choice but to make a change if it's to stay ahead of the game, and at least this time round the colours are bold, not the gentle pastel shades of the Mini.
In your hand, the Nano remains as tiny as ever. Old and new models aren't identically dimensioned, but the difference is marginal. The new version has the rounded sides of the Mini rather than the flatter sides of the first-generation Nano, but it doesn't make the new device seem any smaller, or any more comfortable to use, I found. It's not like the first Nano's edges were harsh, as they were on the very first hard drive-based iPods.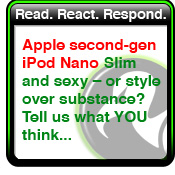 Round or flat is a matter of personal preference, of course. However, all Nano users are likely to appreciate the new model's larger Hold slider, which is easier to move than its predecessor, though it isn't raised any further above the top of the player.
On the base, the earphone socket is once again placed on the left-hand side, but it's slightly further away from the dock connector than was the case with the original nano, so expect to have to replace some of your accessories if you upgrade to a 2G model.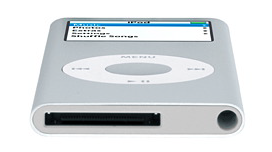 The click-wheel works much as before, but there's a neat new touch: the central button is slightly concave, which makes it easier to locate and press by touch alone, and simply feels better. It's second only to having a raised centre button, but at least there's no risk here of accidental presses.