Apple's second-generation iPod Nano
More a remixed re-issue than a bold new album?
---
The new Nano's display is slightly larger than the old version's - it's 1.5in diagonal - and it's certainly brighter, something that folk who plan to keep photos on it will appreciate.
The new search system is a joy to use. It reminded me of entering my initials in old arcade games: just select a letter and hit the click-wheel's centre key. Like Mac OS X's Spotlight search system, as you add more characters, the Nano narrows the search. And to avoid confusion, artists and albums are flagged with an appropriate icon to separate them out from the song titles.
My gut feeling is that this feature will be less useful for obsessive music fans than it will for more casual listeners - the former will know which album and genre a given song is filed under and track tracks down accordingly. Everyone, though, will find the new scroll guide of benefit. Zip through a long list of songs and after a few turns of the click-wheel up pops a large panel indicating the point in the alphabet you're currently scrolling through. It's much easier to read than the initial letters of the scrolling song/album/artist/genre/composer entries are.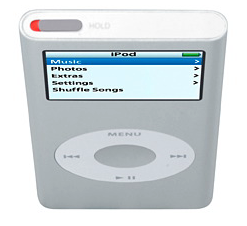 The big benefit is the battery life, now boosted to 24 hours - ten more than before. While you might not sit down an listen continuously for a full day - maybe not even the 14 hours the old Nano could run for - the higher capacity means you'll not need to worry so much that when you pick up your player before heading, you'll suddenly find it dead.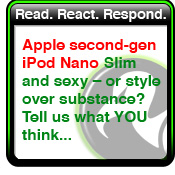 The arrival of the 8GB Nano has pushed the old 1GB capacity off the list, but the prices are the same, so you're now getting more capacity for your money or - if 2GB or 4GB is plenty for your needs, a cheaper player. Apple hasn't lost its product pricing guile: if you want a black model, you'll have no choice but to spring for the 8GB Nano, and if all you want is 2GB of storage, you're going to have to have a silver-hued device. But that's the ruthless efficiency of Apple's profit-loss spreadsheet for you.
Of the three capacities, 4GB remains the sweet-spot - that 1,000-song limit is perfect for the majority of more casual listeners. Folks looking to keep photos on their Nano too should opt for the 8GB model, I'd say. The screen seemed more scratch-resistant too, but after only a short play, it's impossible to say so with certainty. Again, time will reveal how well Apple has designed the display's plastic shield.

If you already own a Nano, there's little need to upgrade. People who don't have an MP3 player are certainly not going to be disappointed. The absence of an FM radio is its only drawback.
Will the metal shell prove more robust that the metal-and-plastic first-generation Nano? Only time and usage will tell. The matte metallic casing shows up grease, but at least it's easier to clean without fear of scratching the surface.
Verdict
The new Nano is certainly more iPod for your money, and there's no doubt that, feature-wise, it's a big improvement over the first-generation model. Me, I prefer the look of the old one, but if the popularity of the multi-coloured iPod Mini is anything to go by, I'm firmly in the minority. ®

Apple's second-generation iPod Nano
The Nano gets colours and a couple of good tweaks...
Price:
£99/$149 (2GB), £129/$199 (4GB), £169/$249 RRP