This article is more than 1 year old
Nvidia GeForce 7950 GT graphics chip
Can Nvidia's top-end single-GPU board cut it?
It's got Infineon DRAMs. Usual supplier Samsung didn't make the grade this time, with Nvidia choosing the HYB18H512321AF-14 devices instead. With a 512Mb density, each is rated at a 1.4ns refresh cycle, that's around 715MHz or so. Nvidia runs them at 700MHz, of course.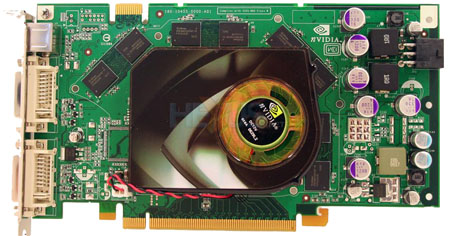 The PCB is nothing we haven't seen before, with Nvidia asking that you connect up an external power connector when you use a 7950 GT, as all 79xx products have before it. Despite just a regular power and ground connection for fan power, Nvidia certainly gets away with calling the cooler revised, the board making much less noise than your author remembers older 7900 GTs making. Indeed, I ran back-to-back tests with 7900 GT and 7950 GT to check.
Both DVI ports are dual-link capable and support HDCP. Board partners can't wiggle out of that either - all 7950 GTs from all partners will support the copy protection standard on both ports. We didn't check on the HDCP support but we did hook up a Dell 3007 WFP to the board's ports - both of 'em - to make sure the dual-link was working, and it was.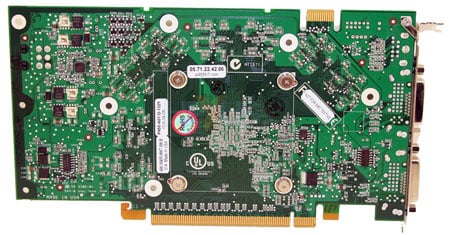 You can SLI a pair of them if you feel frisky and with single-slot coolers you might even get away with doing so in smaller form-factor systems. Power draw we figure to be around 85W or so, depending on load condition, although we can't be 100 per cent conclusive. It's a shame Nvidia didn't provide a pair of samples - we'd have been able to check on that a bit better, but we're sure we're not far off.
Nvidia released a 'new' 91.47 for testing the 7950 GT after the release of the same driver for 7900 GS a week or so ago. However, bar a change to the .inf file and the corresponding catalogue file to include the right device ID and whatnot, everything's identical between the releases for x86 and x86-64.
We ran each benchmark a trio of times, discarding the outer results and reporting the middle one. If any of the three results looked erroneous, we threw all three away until we could collect three within the margin of statistical error. Any major attempts needed to get three reliable results we let you know about, of course. Apart from that, things are as noted on the graphs and in the graph commentary.
Rivatuner confirms clocks and GPU configuration: