Google erases Operation Ore campaign site
Silence over Inquisition 21
---
Google has delisted www.inquisition21.com, the website campaigning against many of the Operation Ore child pornography convictions. The last time the search giant's crawlers checked the site out was on 10 September.
Operation Ore, the UK's largest investigation into online child pornography, was the result of US authorities handing over credit card details on over 7,000 individuals whose details they had found on a porn portal that contained links to child pornography.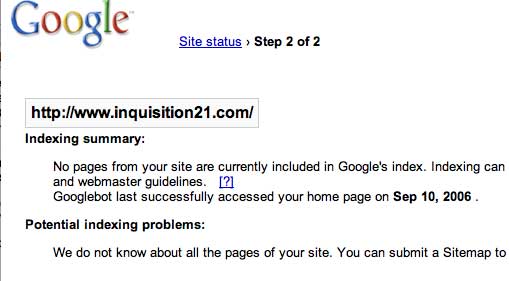 Inquisition21 says the database contained a large number of fake credit card numbers, and many card numbers that were being used fraudulently. This, it argues, casts doubt on the safety of some of the convictions in the UK. It is gathering support to mount a legal challenge to the convictions.
Brian Rothery, Inquisition 21's editor, says the delisting followed an attack on the site on 8 September. He says the attack, during which "quite a large amount of undesirable material was placed on the site with numerous links to it from other sites", came as the site was about to make potentially damaging disclosures about the handling of the investigation.
We asked Google why it had taken the site off its database, and on which grounds it has appointed itself censor, but it refused to comment on the action.
Instead it issued a statement: "We cannot tolerate websites trying to manipulate search results as we aim to provide users with the relevant and objective search results.
"Google may temporarily or permanently ban any site or site authors that engage in tactics designed to distort their rankings or mislead users in order to preserve the accuracy and quality of our search results."
At the time of going to press, the company had not confirmed that the Inquisition21 site had actually breached any of these guidelines. ®