This article is more than 1 year old
Sony colours Vaio C series for Cosmo crowd
Love a (Mandarina) Duck
Sony's Vaio C Series notebooks, launched this week, go right to the heart of cosmopolitan chic - or so the consumer electronics giant would have us think. Laptop as lifestyle accessory - or fashion accessory? It depends, I suppose, on who you are: a "free spirit", an "explorer", a "jet-setting nomad"? Whatever, Sony's got a hue for you.
Let's match 'em up. Sony's colours are "silver white model for the modern, sophisticated men or women who want to reflect calm, cool, karma". Meanwhile, there's "a pink model for the free spirit who likes to be noticed", and who doesn't, girls?
City life not for you? Then Sony has an "organic, earth-rich... green model for the explorer who wants to feel at one with nature", or "a grey and orange model for the jet-setting nomad" - or someone who simply doesn't want to get lost in the fog. Finally, there's "a black model with burgundy trim for the person who wants the classic understated look that offers timeless elegance".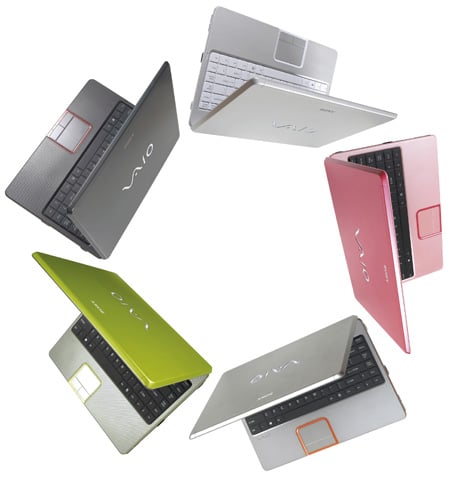 Even Apple didn't cater for the "timeless elegance" crowd when it launched its multi-coloured iMacs all those years ago...
Back to the Cosmo crowd, and Sony's teamed up with Italian handbag designer Mandarina Duck to create a set of matching notebook holders.
Now the bags I can do. And the nice'n'shiny 13.3in, 1,280 x 800 widescreen display, perfect for watching DVDs when you're jetting between Milan, Paris and New York. I like the MacBook-styled keyboard too.
For him indoors, my Tech Obsessed Youth (TOY) boy, he gets a Core 2 Duo processor, 1GB of DDR 2 SDRAM expandable to 2GB - if only he were a little more, well, expandable... a choice of 100GB or 200GB of hard drive storage and a DVD±R/RW optical drive. You can also whether you want integrated Intel GMA 950 graphics or a more powerful but more battery depleting Nvidia GeForce 7400 chip.
This "autumn collection" of laptops and handbags will debut shortly priced from £999 to £1,099. ®