This article is more than 1 year old
RIM BlackBerry Pearl 8100
Slim, sexy yet still a BlackBerry
Review Research in Motion's BlackBerry has, with its seamless email and sturdy workhorse ruggedness, captured the business market. But its bulky designs and lack of extras have put off many a consumer. That's all set to change with the introduction of the Pearl, RIM's first handset aimed slap bang at the consumer market...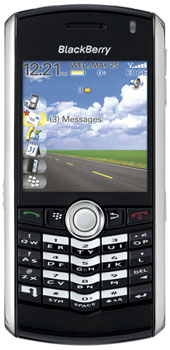 First up, you've got the design. If you've passed on previous models because of their utilitarian looks and lacklustre appeal, then be prepared to look again. This model has style through and through, from its slim 1.3cm depth to its chrome-effect finish. It's light too, weighing in at just 88g.
It's not that the previous models were ugly, it's just that this one is the much, much better looking younger sister.
In addition to the frumpiness, RIM has also ditched the side-mounted thumbwheel found on previous models. While it was fine for the majority, it was a bit of a nightmare for the left-handed user.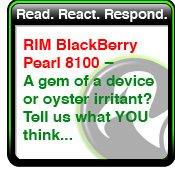 Ousting the basic up-down action sits a roller ball with a full 360° movement. It even glows white when you use it, resembling the device's cool new moniker, Pearl.
Adding an extra degree of movement means you can now whiz about web pages instead of diligently thumbing your way around. It's a bit like being given a mouse, when before that all you had were cursor keys.
Pearl is also the first BlackBerry to incorporate a camera. Wary of twitchy businesses worried about nefarious employees snapping things they shouldn't, RIM has steered clear of bundling one before. In consumer world, however, it's a must-have.