There's 64MB of memory as standard, but if you run out of space then you can add extra via the Micro SD slot. Annoyingly, though, it's situated underneath the battery - meaning you need to remove it to switch cards.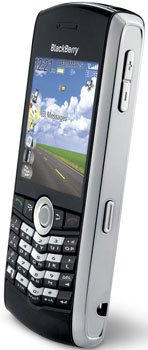 The full colour screen supports 65,000 colours and stretches to 240 x 260 pixels, giving a clear, easily readable display.
There's a built-in media player, although RIM's playing catch-up with other phone makers when it comes to the feature list: it's somewhat basic. MP3 playback is reasonable, but you have to use the bundled handsfree kit as the socket is too small for a normal headphone jack. Sound quality is OK, but push it too loud and it soon starts to distort.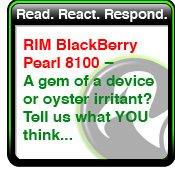 The media player also supports video, although transcoding content into a suitable format is no easy task. There's no supplied software to do the job, and even RIM's support pages on the subject aren't exactly straightforward. Once you've got your video in the right format, however, the results are good - but the screen's too small for watching anything but the shortest of clips.
Think of everything you'd like when you're out and about, then squeeze it all into a super slinky handset and you've got the Pearl.
Forget normal mobiles - with BlackBerry nous under the hood you can forgo fighting with your handset, trying to get it to do what you know is possible and get back to much more worthwhile pursuits, such as embarrassing your buddies by regaling in what they got up to the night before.
Verdict
Pearl is the best BlackBerry yet. Full stop. It does everything RIM is famous for - seamless email and communication - and packs it into the same space as a normal mobile phone. Throw in the easy-to-use roller ball navigation and a built-in camera and it covers all the bases. If you want everything on the go, and want it now then the Pearl is currently the only handset on the market that ticks all the boxes. ®

RIM BlackBerry Pearl 8100
Everything a business BlackBerry does, but in a sleeker, smarter handset...
Price:
From free, depending on contract RRP