Updated One-third of iPad owners have never downloaded a single app, either paid or free.
"Almost two-thirds of iPad owners have already downloaded a paid app," concludes The Nielsen Company's survey of over 5,000 "connected device" owners entitled "The Increasingly Connected Consumer: Connected Devices" (PDF).
The way we see it, that statement is a classic "half-empty or half-full?" analysis. Well, to be accurate, "one-third empty or two-thirds full?" — but you get our point.
Between when the iPad began shipping in early April and the end of Apple's most recent fiscal quarter, 7.46 million of its magical and revolutionary tablets found homes. Nielsen's figures indicate that just under 2.4 million of those buyers — about half of whom identify themselves as "early adopters" — haven't downloaded a single iPad app.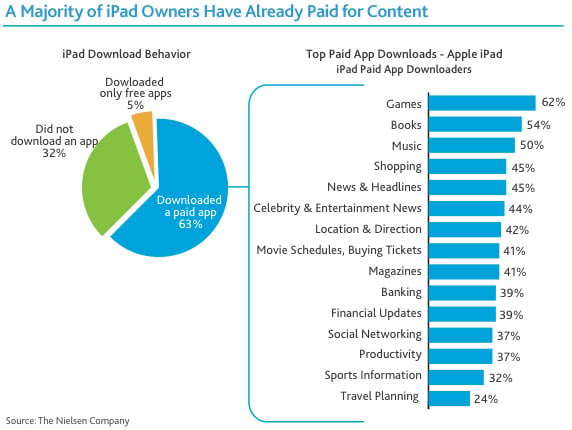 The good news for Apple: 63 per cent of iPad users have bought apps. The bad news: 32 per cent haven't
According to the latest report from the app-watchers at Distimo, the average price of the top 10 iPad apps is $4.49. If those 2.4 million download virgins had downloaded just one of those top 10, that'd be over $10.7m, of which Apple's take would have been about $3.2m.
Which is chump change to a company that raked in $20.34bn last quarter — about five one-hundredths of one per cent of that haul, to be specific.
And then there's the revenue Apple is sucking in from advertisers paying top dollar to participate in Cupertino's iAd program, pumping pricey ads to iPad users, which Nielsen describes as being "far more receptive to advertising" than other connected-device owners.
So if you're an Apple fanboi — or, more important, an Apple investor — don't worry even a smidgen about those 32 per cent of iPad owners who aren't downloading apps. Although $3.2m may seem like a hefty chunk of change to us mere mortals, it doesn't even qualify as a itty-bitty bedbug bite to the world's second-largest company. ®
Update
Nielsen has updated its iPad-app download stats — see our follow-up story for details.
Similar topics