This article is more than 1 year old
HP spent at least $375,000 on self-destruction
How to wreck an IT giant for under $1m
Recovering stolen laptops from Italy - $9,668. Consulting an investigative reporter - $7,312. Having a spy scandal erase decades of hard work building up your reputation, while eroding your board of directors and forcing your CEO to testify in front of Congress - priceless. Or rather about $375,000.
Close watchers of the HP spy scandal will recall that there were two parts to the company's investigation - Kona I and Kona II - that stretched between early 2005 and about March of 2006. Thanks to the release of hundreds of pages of documents, we've gained some perspective on just how much these operations cost HP. Remember it was CEO Mark Hurd who authorized putting HP's money into the second, more expensive part of the investigation.
Unfortunately, only a few documents have emerged around the Kona I investigation. And, we've only been able to spot one that dealt with any of the costs outside firm Security Outsourcing Solutions (SOS) hoped to recoup from HP.
On April 19, 2005, Ron Delia, the hired gun from SOS, e-mailed HP's former Chairman Patricia Dunn about potential costs for the Kona 1 operation. Much of the Kona 1 work centered on finding out links between BusinessWeek reporters and board members. A lot of the investigative work was fluffy stuff such as when a reporter wrote a given story about HP and who he quoted in the story. SOS also prepared dossiers on a number of reporters outside of BusinessWeek - most notably John Markoff at the New York Times - and on HP's board members.
The investigators looked into former CEO Carly Fiorina too. "It should be noted, according to chapter 5 in Peter Burrow's book 'Back Fire,' Carly Fiorina has a history of 'leaking' tips to the press," SOS wrote. Later it added, "Therefore, it is possible proprietary information is being forward (sic) from a board member to a third party (Carly Fiorina) and then to Ben Elgin, Peter Burrows and/or Roger Crockett (BusinessWeek reporters). Therefore, this firm is in the process of attempting to identifying (sic) cell phone numbers listed to Carly Fiorina."
A more savvy investigative firm would have noted that Burrows' book was highly critical of Fiorina and that HP refused to give Burrows any executive access during his reporting. Burrows would be just about the last person Fiorina would hand a leak to.
We've yet to find a final bill for all these services, but here's how much SOS guessed the investigation would cost before it got going.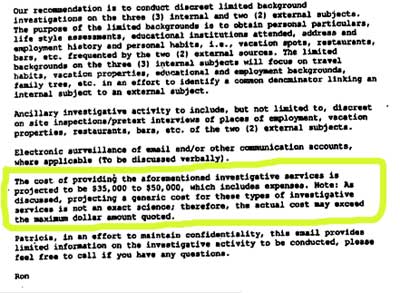 As HP hired more help and expanded its probe during Kona II, costs swelled. HP had to pay for multi-state surveillance, tons of pretexting and and plenty of analysis. It also had to pay to find out what happened to a laptop that was stolen from former board member and confessed leaker George Keyworth, while he vacationed in Italy.
Of particular note, is the exorbitant $7,300 HP paid to an investigative reporter who consulted on this mess.
The reporter - named "Diane" - did HP little good as the company stumbled in its efforts to tempt a CNET reporter into revealing her sources. HP really thought it had gotten into the minds' of reporters, but the documents show it wasn't close.
Here are a couple of gems that Diane slipped to HP.
"According to Diane, information provided one day in advance is already floating around and there are a number of ways to obtaining this information. PR departments, secretaries, have access to info the day before it is released to the public. Information obtained 2 days prior to its release has more of an 'insider feel.'"
Solid advice.
Later we find this:
A reporter will always attempt to identify the source of information. Note: Reporters and editors are very sensitive about verifying sources. An editor would want to know 'who is this individual.' The editor would ask for independent conformation or any story of substance coming from an anonymous source.

The reporter would also let her source know, 'as a favor,' that somebody else is talking to the press. The reporter would tell their source 'this is on my desk.' Note: Reporters normally want to know who the source is. They do not want to be sandbagged.

However, the reporter may write the an (sic) article stipulating the information came from a 'unconfirmed source', as long as as the information is not a 'smoking gun' and is only a 'preview of what is coming.'
HP's investigators, lawyers and executives - including Mark Hurd - digested this information and went on to exchange e-mail after e-mail trying to come up with just the right ruse to ensnare the CNET reporter. It had to be juicy disinformation but not disinformation so juicy that it would affect HP's share price, if the reporter actually happened to file a story. So, HP created a persona called "Jacob" who e-mailed this to the CNET reporter, hoping she would check the disinformation with her board room source.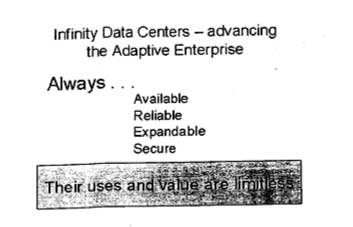 Not surprisingly, CNET declined to run a story on that gem.
We leave with you with the final rundown of HP's Kona II costs. ®