You may or may not know that Earth's magnetosphere leaks. You might think it is therefore time to send for the intergalactic plumbers. And in a manner of speaking, that is what the European Space Agency has done, in collaboration with its counterparts in China.
Between them, the two groups have tracked the leak to its source: they have found where it is that solar particles are managing to sneak in through our magnetic shield. This solar material can be a threat to very expensive satellites, and to even more valuable astro/cosmonauts.
The venture involved the Chinese Double Star satellite, and ESA's four Cluster spacecraft, being in the right place, at the right time.
On May 8 2004, both sets of satellites found themselves in the firing line, ESA explains.
There was no unusual solar activity: no flares, coronal mass ejection or any other protuberances from the Sun. But for a period of six hours the Cluster spacecraft were hit every eight minutes by intense flows of electrically charged particles released by the Sun. The Double Star TC-1 spacecraft took an even harder pummelling, ESA explains, being blasted every four minutes for eight hours.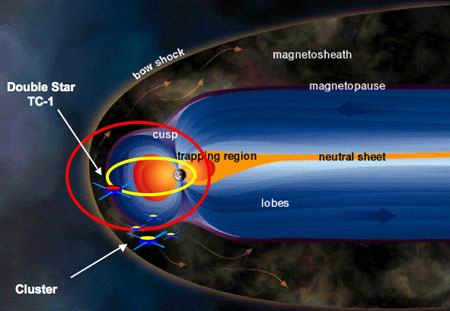 What happened was that a series of so-called magnetic flux tubes swept past the satellites again and again. These tubes are channels created by the merging of the Earth and Sun's magnetic fields.
One end of the tube is connected to Earth, and the other to the full force of the solar wind, and so they allow solar particles to penetrate the normally protective magnetosphere. When this happens, physicists say there has been a Flux Transfer Event. It is also known as magnetic reconnection.
The phenomenon has been known to exist for many years, but what is interesting about the day in May 2004, is that the same location underwent magnetic reconnection several times. And the satellites were there to watch it.
The data from the five spacecraft enabled scientists in France, led by Aurélie Marchaudon of the Université d'Orléans, to triangulate the location of the magnetic reconnection region, and to deduce its size.
They found that the reconnection site was on the daylight west side of the Earth's magnetic shield and was around 25000 kilometres across.
Later, Jean Berchem of the University of California Los Angeles (UCLA) and his team, conducted computer simulations that confirmed the observational data. ®