Oono MiniDAB pocket digital radio
The Archers in your pocket, in 1s and 0s
Review The MiniDAB is slighly smaller than early iPods, and while it's very much lighter than the Apple device - it feels like it's missing the battery, even though it isn't - it has none of the iPods looks. Apart from the iPod-like black and white colour schemes, the MiniDAB has a rather 1990s look about it: simplicity is out, complexity is in - presumably to imply a large feature set.
The display is a monochrome seven-line LCD. Above it sits the voice-recording mic; below it sit Mode, Timer and Rec buttons, and the MiniDAB's main control cluster. At the bottom is the unit's speaker grille. The control's a circular four-way job: push up or down to skip through recordings, and left or right for rewind fast-forward, and to call up the station list in DAB mode. At the centre is the play/stop button, and surround the navigator are four further keys: Menu, Delete/Back, Info and Repeat. Alas, these four don't extend a full quarter of the way round the wheel...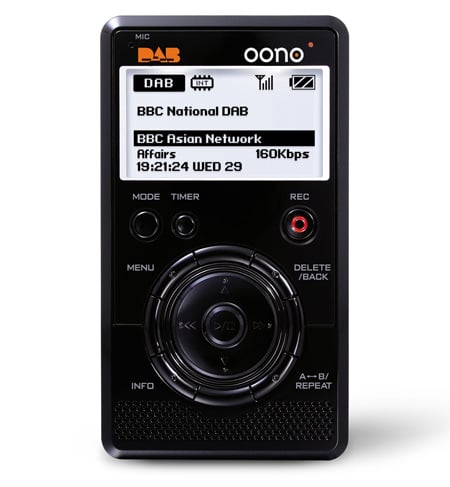 On the left-hand side of the device are the volume control, Hold switch and recessed reset button. Roung the other side, you'll find the line-in, 'phones and SD card connectors. There's a mini USB port on the bottom for charging and file transfer. The port has a cover, but it's not connected to the player so expect to lose this sooner or later.
The shiny black MiniDAB fits snuggly in your hand, but the all-plastic casing has a cheap feel that's exacerbated by the way the buttons rattle. It has the air of an early, no-name MP3 player, and the look of one too.
Powering the device up puts you into MP3 player mode. There's 128MB to 2GB of built-in memory, depending on which model you choose, and you can add up to 2GB more using the aforementioned SD card slot, which also has a cover, this time attached to the player. I was sent the 128MB unit - enough for two or three albums if they're short.