Oono MiniDAB pocket digital radio
The Archers in your pocket, in 1s and 0s
Music transfer is quick and easy enough using USB 2.0 - the MiniDAB mounts as a Mass Storage device. Sys Admin friendly, the device lists albums as folders under a Root directory, with each folder's contents listed and ordered by filename. There are no modern conveniences like artist/song/genre listings, or even playlists.
Playback's decent - provided you use something other than the bundled 'bass-lite' earphones - with all the repeat and EQ pre-sets you'd expect from a recent MP3 player - or even one of this gadget's apparent vintage. The screen's used to good effect to display track details. You can delete files on the fly, but that's probably more useful in Voice mode, which uses the same folder-style UI to list your MP3 voice recordings. A nice touch: Oono bundles a clip-on microphone, but there's one built in too.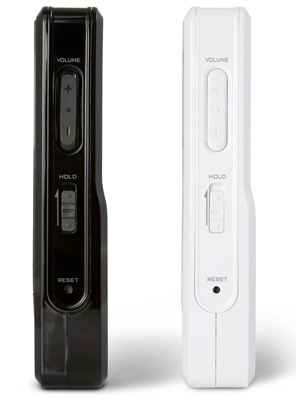 Recordings are also listed under Music, to which mode the MiniDAB drops when you've finished recording a memo. Pressing the Mode buttons takes you on to Voice, then to DAB and, last in the sequence, FM - the MiniDAB's two radio options. The FM's there for back-up, and reception's as good as you're going to get from devices that use the earphone cable as an antenna. You can save stations, but the listing of ten pre-sets is purely numerical.
But back to DAB mode, which is really what the machine's about. Alas, with the earphones in, the radio's reception is a little hit or miss. I experience distortion on some multiplexes - the bands multiple stations are transmitted upon - mono playback on others. A few were OK, but I rarely saw the MiniDAB's on-screen signal strength meter go above a couple of bars.
Oono supplies an aerial cable which plugs into the earphone socket but doesn't disable the built in speaker. By stretching it out, you should get better reception, but the speaker's not up to much - it's a bit quiet - and if you're going to have a static device, you may as well buy a standard portable radio from Roberts or Pure.