Oono MiniDAB pocket digital radio
The Archers in your pocket, in 1s and 0s
Recording broadcasts is simple: press the Record button for an ad hoc archive or press the Timer button to set up a timed and, if you like, a periodic recording. The latter's limited by the need to set up station pre-sets first - why, when it's so easy to scroll through the list of station names sent via DAB? Recordings are made in MP3 format, and the timer set-up screen lets you choose set bit-rates from 32-256Kbps. No so ad hoc recordings - they're all at an FM radio-like 64Kbps. Either way, recordings are named using the date, time and multiplex number all squashed together as a single, space-less string. The device could at least have used the station name.
Actually, I later found you can change the ad hoc recording bit-rate, but you need to know that pressing and holding the Menu button produces a different menu from simply pushing it once. I discovered this by perusing the dozens and dozens of modal button presses and menu listings in the manual, which reveals just how complex controlling the MiniDAB is. To be fair the manual tells you everything, but who's going to be able to remember all this when they're out and about?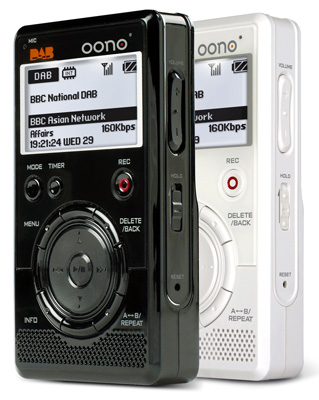 Up to ten timer entries can be set at any one time. While one-off recordings are placed in a DAB folder in the Music menu, scheduled recordings appear in a folder called Schedule in the Voice menu. Go figure... It's also entirely unclear how you remove an entry from the recording schedule.
Oono claims you'll get around eight hours' digital-radio playback from the MiniDAB's built-in rechargeable battery, and I wouldn't argue with that. You should get up to 22 hours' MP3 playback, the company adds.
Verdict
It's a bold attempt, but Oono's MiniDAB isn't going to get the UK population off its iPods and into handheld digital radio. The user interface is five years behind the times and the player's looks are even more outmoded. It's expensive too. Yes, it works and there' no question it's one of the lightest portable audio gadgets out there, but I'm not sold, oono I'm not. One for the die-hard DAB buff only. ®

Oono MiniDAB pocket digital radio
Today's technology - yesterday's product design...