Those of us who have been waiting 50 years for the answer to the question "where's my bloody flying car?" need wait no longer. It's right here on eBay: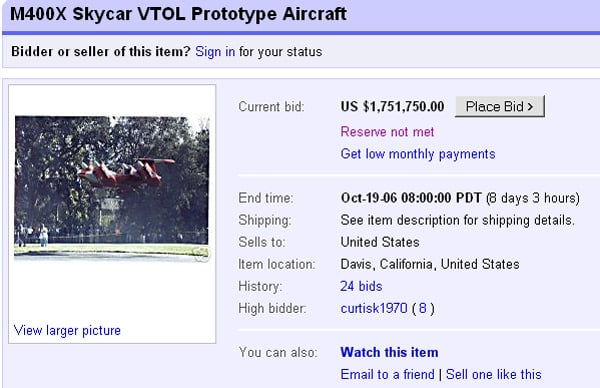 Yes indeed, the Moller M400X Skycar may not actually be "certified for use by the Federal Aviation Authority nor as a licensed road vehicle", but for a bid in excess of the current $1,751,750, you too could hover majestically above your own lawn while the neighbours look on with amazement and envy.
A word of caution, though: the M400X has only ever been tested to an altitude of 40ft and using ground-based remote controls. Wannabe Biggles are duly warned that once you get in the cockpit, you're on your own. We advise life, accident, and third-party liability insurance, and plenty of it. ®
Bootnote
Ok, that's that one sorted, now where's the bloody robotic butler I was promised back in 1956, eh? Oh yes, and an aeronautical ta very much to Craig Graham for the Skycar tip-off.