Palm has launched its fourth smartphone of the year - a PalmOS model with a budget price. It's the first major upgrade to Palm's GSM line since the Treo 650, announced in late 2004 - and, which Palm was forced to stop selling in the EU in the summer because of the RoHS hazardous waste requirements. It's also much more aggressively priced than its predecessor.
Exactly what the Treo 680 will cost, Palm hasn't yet confirmed. Today's Wall Street Journal pegs it at $199. Rather than relying entirely on carriers, Palm will sell the 680 direct off its website.
With a nod to the classic iMac, the 680 comes in four colours, Graphite (aka grey), Copper, Crimson and Arctic. With our Northern ice cap rapidly vanishing, Arctic is an ambiguous choice of name - but Palm has optimistically decided that it's still white.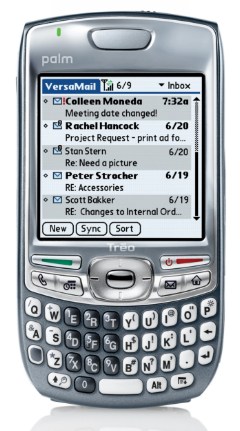 The new model dispenses with the bulky, 90s-vintage external antenna, which means the Treo 680 is 23g lighter than the most recent (CDMA-only) PalmOS Treo, the 700p; it's also a fraction longer (by 6mm) and thinner (by 3mm).
The new model uses the same cut of PalmOS, the same screen size and resolution (320x320) and the same application processor. Like its GSM predecessors, it also supports the 850/900/1800/1900Mhz bands, EDGE-speed GPRS, but there's no W-CDMA support or Wi-Fi.
The complexities of a contemporary W-CDMA (aka UMTS) phone - which has to be able to fall back to GSM without dropping the call - have proved beyond the capabilities of the venerable PalmOS, forcing Palm to become a Windows licensee in order to support the European and Asian flavour of 3G. That may not be a problem one day, when all the GSM networks have shut down and moved entirely to W-CDMA, but that day is a very long way away and Palm can't wait.
Recruitment ads suggest Palm is working on an in-house successor to PalmOS Garnet. In related news, Access subsidiary PalmSource has lost its name, the company announced today. The Treo 680 comes powered by... Access.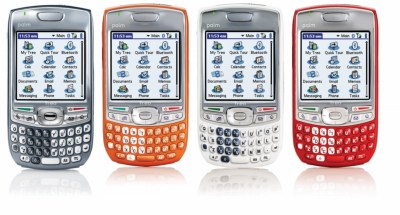 Is the new model enough to revive Palm's presence in Europe? The press release uses Europe-friendly buzzwords such as "work/life balance". Certainly the lack of a bulky external antenna, which has been cited as a deal-breaker for the European market, should help. But in a fascinating recent post on the cultural differences between Europe and the USA when it comes to mobile phones, former Palm exec Michael Mace cites evidence that the visible keyboard may still repel Europeans who take things like "work/life balance" seriously.
"The keyboard," recounts Mike, "which American users tend to regard as a badge of business power and importance, comes across as pathetically computer-obsessed to a lot of folks in Europe."
Harsh, but true.
Alas we won't know how well the European market receives it until next year, long after the US launch. ®