NASA to test space airbags
Not the Bulgarian kind
NASA is investing $600,000 in developing giant airbags that could one day replace traditional heat-shielding for spacecraft entering the Earth's atmosphere.
The idea is that inflatable "ballutes" (somewhere between a balloon and a parachute) will make a good, lightweight, alternative to either permanent or ablative heat shields, New Scientist reports.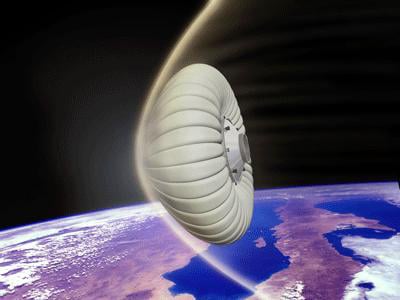 In theory, the ballute would be inflated with pressurised gas just before re-entry. The design NASA is funding, developed by Andrews Space in Seattle, relies on the ballute allowing some of its gas to escape, providing a buffer between the atmosphere and the ballute material.
As the craft plunges through the atmosphere, the escaping gas would be heated up and carry the heat away from the shield, helping to keep it and the craft cool through the raging heat of re-entry.
The ballute would also provide an increased surface area for craft to aerobrake ahead of cargo drops, for example. This is a technique where a craft will dip into an atmosphere to slow itself down and get into a more circular orbit, making for a slower landing.
NASA is keen on the technology because weight savings either mean cheaper launches, or space in the payload for more science equipment. But there are serious challenges that need to be overcome.
Reliability testing, for instance, is tricky to do, and the consequences if the ballute failed to deploy are very serious indeed.
NASA's own research from 2003 also highlights difficulties developing stitching and adhesives that can withstand the rigours of re-entry, and also raised the possibility that a long-stored ballute could become creased or otherwise damaged and fail to open properly. ®