This article is more than 1 year old
Lizard Alliance targets Turkish PM
While Germans field test pig-gutting robot
RoTM What must be the most high-profile Lizard Alliance attempt yet to wrest control of Planet Earth from its current human masters came earlier this week when Turkish prime minister Recep Tayyip Erdogan was temporarily captured by his armoured limo.
According to local neoLuddite Resistance Army (NRA) operative H Turgut Uyar, Erdogan suffered an attack of hypoglycemia while in his motorised fortress and was duly rushed to hospital. Upon arrival, however, his bodyguards and driver panicked and leapt from the vehicle leaving the keys in the ignition - instantly activating the car's central locking system.
As Erdogan lay unconscious in the back, staff battled for 10 minutes to break the car's armoured windows, eventually succeeding using a chisel and sledgehammer borrowed from a local building site. Erdogan made a full recovery after nine hours' treatment, while the Turkish press expressed bewilderment at the incident.
One government spokesman is quoted by Anatolia news agency as saying: "Preliminary work is underway to determine why and how the incident occurred. Depending on the outcome, a investigation will be launched if necessary." The finger of blame has, inevitably, been pointed at the driver and bodyguards, but we know better. World leaders can consider themselves duly warned.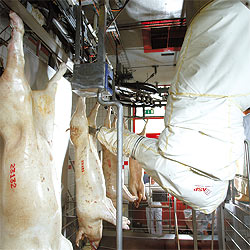 In Germany, meanwhile, the question as to what fate awaits those humans who survive the Rise of the Machines™ and are not required by our lizard masters to work as slave drones in the CyberDyson factory, may have been answered by Oxford NRA cadre member Jamie Boyle. He reports a robotics company has carried out successful field testing of advanced pig-gutting robots which have chillingly allowed porker processing outfit Westfleisch eG to increase the efficiency of the vital rectum removal and pelvic bone cutting processes.
KUKA Roboter GmbH's experimental carcass-molesting system deploys four robots which go about their grisly work as follows:
The first robot in the line, a KR 30 equipped with a double shackle, cuts off the pig's front feet at a defined position. The second KR 30, suspended from the ceiling, uses a special cutting tool to remove the rectum. Following a renewed 3D laser measurement, a KR 60, also installed in the inverted position, breaks the pig's pelvic bone with a cutting tool resembling a cleaver and scores the abdominal wall. The second KR 60 pulls the abdominal wall of the carcass forwards with a pin and opens the belly and chest with a circular cutter. The sternum is cut completely and precisely through the middle.
There's more on KUKA Roboter's "medium payload" robots - including the KR 30 and KR60 - right here. Suffice it to say, since the pig-gutting system is controlled via a "control panel with familiar Windows interface", and despite the company's insistance that Westfleisch has not "shed a single member of the workforce" as a result of the automation, it's only a matter of time before the robots spontaneously go into "blue screen of death" mode and decide to "shed" a few workers themselves. ®
The Rise of the Machines™
Washing machine attacks Icelander (9 October 2006)
Volkswagen unleashes 150mph self-driving car (4 July 2006)
Police arrest satanic BMW victim (20 June 2006)
Iraq grunts mourn loss of robot comrade (25 May 2006)
Bendy bus attacks Leeds cake shop (25 April 2006)
Captain Cyborg acquires Dalek capability (20 April 2006)
Man survives satanic BMW crash-and-burn (13 March 2006)
Second Freeview box signals alien invasion fleet (15 February 2006)
Lizard Army fuses woman with black helicopter (4 November 2005)
NRA probes Japanese sex android (26 August 2005)
Androids launch minicab firm (15 July 2005)
Beware the breast-examining hand of death (13 July 2005)
Lizard Army Neo-Mech menaces eBay (13 July 2005)
Vampire robonurses hunt in packs (6 June 2005)
Cornell Uni develops apocalypse cube (13 May 2005)
Sex android begats Armageddon machine (22 April 2005)
Man executes Chrysler (21 April 2005)
Rise of the man-eating cyberloo (24 March 2005)
Sobbing Frenchman recounts Renault Laguna terror ordeal (18 March 2005)
Fire-breathing bus attacks South London (14 March 2005)
Dyson unleashes self-replicating hoover (11 March 2005)
Battling teen crushes roboarm menace (8 March 2005)
French join motorised Lizard Alliance (22 February 2005)
Lizard Army develops copulating robot (11 February 2005)
We are Zogg: The Cuddly Menace (9 February 2005)
Lizard Army invades Alaska (27 January 2005)
London menaced by flaming DVD players (12 January 2005)
Killer hoover attacks Scotsman (24 December 2004)
Car self-destructs in assassination bid (17 December 2004)
The rise of the rat-brain controlled android (16 December 2004)
Boffins unleash robotic cockroach (15 November 2004)
Ukrainian teen fights the Rise of the Machines™ (13 October 2004)
Man in satanic Renault terror ordeal (7 October 2004)
Killer cyberappliances: Satan implicated (28 June 2004)
US develops motorised robobollard (29 April 2004)
Killer cyberloo kidnaps kiddie (22 April 2004)
Fire-breathing buses threaten London (24 March 2004)
Cyberappliances attack Italian village (11 February 2004)
Cyberloo blast rocks Stoke-on-Trent (10 February 2004)
Cyberkiosk assaults Spanish teenager (8 December 2003)
Hi-tech toilet caught on camera (19 April 2001)
Hi-tech toilet swallows woman (17 April 2001)