Interview What the hell does internet gambling have to do with port security?
American gaming enthusiasts have been asking themselves that very question, after Republicans in Congress recently amended the Safe Port Act (H.R. 4954) to prohibit financial transactions between American financial institutions, such as banks and credit card companies, and online gaming sites.
Most of the online gambling sites operate out of Europe or the Caribbean, and are listed on the London Stock Exchange, which until now has placed them largely out of reach of American authorities. Although internet gambling is prohibited in the US, authorities have until now been more or less powerless to do anything about it - of the estimated $12bn in annual revenue generated by online gambling in 2005, approximately half came from American players.
Apparently, Presidential hopeful Senator Bill Frist, who helped push the last minute amendment through, wants that money back in the pockets of hardworking local bookies - after all, online gaming, much like online pornography, has been one of the most profitable areas of internet commerce.
Or at least it was until Frist and his gang got going. News of the impending passage of the legislation in Congress wiped $7bn in market capitalization off the books of publicly-traded UK gambling sites such as Sportingbet PLC and 888 Holdings PLC before President Bush even signed the legislation into law last week.
That, combined with the recent arrests of internet gaming industry executives such as David Carruthers and Gary Kaplan of BetonSports.com, who were indicted on a variety of federal racketeering, wire fraud and tax evasion charges, or Peter Dicks of Sportingbet, who narrowly escaped extradition to Louisiana, has convinced some observers that the party's over for the online gaming industry.
American players were livid when the assets of BetonSports.com were frozen by the Department of Justice pending resolution of the criminal charges against the company and its executives. All in all, the industry seemed by most observers to be on the ropes.
Well, that certainly hasn&'t slowed down Calvin Ayre, the man who parlayed a truck full of fresh Canadian fruit into an internet gambling empire. The Bodog Entertainment Group, founded in 1995 by Ayre, recently purchased the Australian internet gambling outfit Betcorp.com, in an effort to expand its presence in Canada and Europe, where the regulatory climate has been decidedly friendlier to online gaming.
While the Canadian citizen operates Bodog out of Costa Rica, Ayre has embraced all the trappings of a Las Vegas gambling mogul. The Bodog website is littered with Ayre pawing barely clad women and more clad sports stars. According to Forbes, Ayre, 44, has at least $1bn in the bank, which can't please Uncle Sam. Close to 95 per cent of Bodog's sales come from the US, while neither Ayre nor the company hand a single red cent to the US in taxes. We decided to interview the betting playboy for an insider's perspective on what are certainly proving to be interesting times for the online gaming industry.
First off, how does it feel to have Forbes put out Calvin Ayre playing cards?
It was a big honor to be asked to be on the face of the Forbes playing cards, especially considering they were handed out to each new magazine subscriber. As if being on the cover of Forbes most popular billionaires issue wasn't enough.
Right, we heard you were modest.

Maybe you could give our readers a little history of the Bodog Entertainment Group. You started it with only $10,000, correct?
How could something that built Las Vegas be a miss on the Internet? This question puzzled me in the early 1990s and was essentially the basis for my decision to sell all my possessions and start an online gaming company. Once the ball was rolling, I then accurately predicted where the industry was headed and modeled my business around creating an all-encompassing digital entertainment experience. Bodog.com Entertainment Group is now considered an international leader in the digital entertainment space with a number of revenue-generating product channels, including online gaming, television, music, publishing and event planning, with over $300m in annual sales across all channels worldwide - and we're still growing.
As far as internet commerce goes, how does internet gaming stack up against other online businesses in terms of overall size?
I would venture to say that online gaming has played an important part in shaping Internet commerce. In terms of overall size and scope, Internet gaming is still a relatively small part of the overall size, albeit growing rapidly.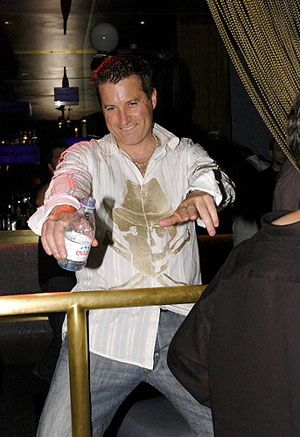 You're something of an outlaw, inasmuch as the American government has taken a much more strident view of internet gambling than the Europeans. To what extent has that helped or hindered your ability to grow the online gaming industry? We all know women like a bad boy, and you're constantly surrounded by beautiful ladies, but do you feel that the almost fugitive status of the leaders of this industry has made it more difficult to gain legitimacy as an industry?
The media love to play up the bad boy billionaire image, and we're more than happy to play along - it's good marketing! This should, however, not be confused with what you suggest as an almost fugitive or outlaw status. I don't consider myself to have this type of status; I actually travel quite freely and consider what we do to be legal in all the jurisdictions where we carry out our operations. In terms of making our brand more accessible and attractive to an international audience and our particular demographic, we made a very deliberate business decision early in the game to tack my face all over our website and on all campaigns associated with the Bodog brand. More than simply a branding strategy, this tactic allowed us to add an extra layer of transparency that - along with our focus on customer service and our expansion into new forms of entertainment has allowed us to play an integral role in legitimizing an industry well in need of a face-lift.
The online gaming industry lost $7bn in market capitalization in one day after Congress passed legislation prohibiting American financial institutions from doing business with online gambling companies. What do you see as the long term impact of that legislation for your industry? And where does the internet gambling business model go from here? Is there any creative way around the legislation?
While the jury is still out on the long-term impact this recent piece of legislation will have on the industry, there's really no secret to how catastrophic this bill has proven short term for the publicly traded online gaming companies. Bodog.com, being privately held and positioned in such a way that it's able to adapt to the ever-changing and quite often volatile online gaming environment, has been able to weather this storm with relative ease. Although we have a few months to fully assess all the changes and their potential impact on our gaming channels, we remain confident that we're better positioned now than ever before to expand all of our entertainment product channels, including gaming, into existing and new markets, such as Europe and Asia.
To what extent can the online gaming industry survive without North America? There seems to be a ton of potential in Asia. Do you agree? And how do you tap that market?
A solid brand is solid brand no matter where you are in the world. Bodog.com will continue build on its current success, while pursuing its aggressive plans to expand into new markets around the world, including Asia and Europe. This has always been part of our long-term objectives.
Why do you think the American gaming industry has put so much money into trying to shut you down, rather than joining the party? Word on the street is that some hefty lobbying money from the American side of the industry is behind this attempt to cut off the air supply of the online outfits.
It has been reported that certain traditional gaming interests are in fact not opposed to having an open and regulated online gaming market. That being said, our focus has always been on evolving our brand and growing our business channels instead of spending time and effort questioning the internal politics within the borders of these countries. Bodog.com is now considered one of the largest brands in the digital entertainment space, and as long as we stay focused on growing our business, we couldn't be positioned better to continue our extraordinary evolution.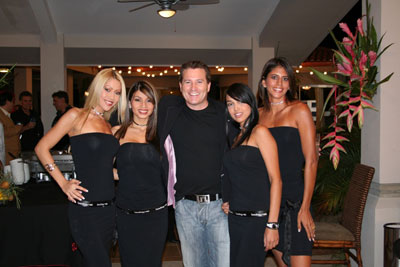 How much of your business really depends on the American market? This has to pinch a bit, right? You re almost the Richard Branson of your industry, but how does Bodog roll with the punches this time - I know you've been branching out into other forms of entertainment such as music and television, but is there really enough synergy between those businesses and online gaming to make it worthwhile?
Bodog.com is far from being a one-market-facing company, and, at this time, we couldn't be better positioned to build on our solid foundation in the markets we're in, while continuing to expand all of our entertainment channels into international markets.
Since its inception, Bodog.com has modeled its business around the idea of creating an all-encompassing digital entertainment brand. Music, television, publishing and online gaming have certain synergies that, when combined, can form an all-encompassing entertainment experience, and these are only a few of the strategies that we have employed to get us to the point where we are.
Bodog.com is now considered a broad-based digital entertainment brand and the power of our model is certainly being realized as we are witnessing a surge in popularity in all of our digital entertainment channels, including online gaming.
One last question, Calvin, and I know you know the answer to this - how are you getting on with the lasses in Costa Rica? Didn't People magazine vote you one of the 50 most eligible Bachelors? Your spread in San Jose Costa Rica would make Hefner envious.
You'll need to make a special trip down to Costa Rica, and you can see first-hand.
Maybe when Oracle's OpenWorld show finishes up. Larry Ellison seems to have you beat for the time being. ®