A UK artist has dismally, albeit heroically, failed to get off the ground in a 20ft aircraft powered by a giant rubber band, the Daily Telegraph reports.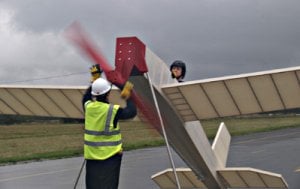 Mark Clews attempt to reach 3,000ft in the oversized kids' toy ended with the aircraft travelling just six feet backwards at a "rain swept" Dunsfold Park airfield in Surrey.
Clews' pioneering aviation project was inspired by his love of balsa-wood model aircraft, the Telegraph explains. He enthused: "Those model planes were brilliant, some of them used to fly 160ft for me, I used to dream of being in them.
"I worked out that if I scaled-up the whole plane, it could theoretically get to 2,700ft."
The 24-year-old artist spent six months constructing his aircraft. The design was based on a balsa-wood model he found on eBay, duly modified after a trip to the RAF's Shuttleworth Collection in Bedfordshire, where he investigated the Wright brothers' construction technique.
The power plant consisted of 200 feet of bungee cord, powering a red propeller obtained in the Midlands for £100, as the Telegraph notes.
Sadly, however, Clews' efforts were in vain. Undaunted, the wannabe aviator said: "It was spectacular, everything I hoped it would be, apart from actually flying."
He added: "We are taking a step in the right direction just by moving. I mean, technically it is a step in the wrong direction I suppose, but at least it's a step."
The aircraft will now retire to an exhibition at Clews' former alma mater - the University of Westminster. Gallery curator Michael Maziere explained the aircraft's symbolic meaning thus: "These works reveal the importance of failure as an essential process of development. [Such] futile gestures take the raw desires of our childhood fantasies to their logical conclusion."
Whether the exhibition will also feature an Airbus A380 (by our reckoning currently the world's leading example of "the importance of failure as an essential process of development"), is not noted. ®