This article is more than 1 year old
Virgin Mobile Lobster 700TV
Pocket TV over digital radio
Review Portable TVs are evolving and moving into the digital age, not least with the help of 3G data streaming to push programming to mobile phones. However, Virgin has taken a different approach: a technology called DAB-IP. You might be familiar with DAB, which is a standard for digital radio, but what the heck does it have to do with telly?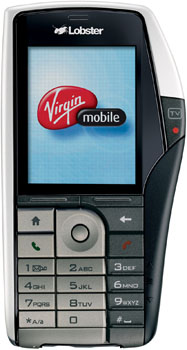 Well, it's not as strange as it sounds. DAB is a digital system, so you can send pretty much any information via a DAB signal. This is something BT's Movio subsidiary has taken advantage of - it's added an IP layer to the DAB transmission. Jargon aside, it means it can be used to stream TV through to handsets or any suitably equipped receiver. And because it uses the same protocols as the internet, the same content can be streamed there too.
That said, there are some limitations. The DAB radio stations have priority, so there's less bandwidth available for the TV transmissions. It's lucky, in a way, that currently there are only four channels available: BBC One, ITV1, Channel 4 and E4. However, Channel 4 isn't transmitted live as the other three channels are.
Interestingly, the European Union is promoting mobile television and the intended frequency it wants to use is what is called the L band for DAB radio. This is a frequency that hasn't been used to date and the UK is looking at opening it up next year. However, this band requires more transmitters than the current technology, but the advantage is that the devices themselves can have built in powered antennae.
But let's take a closer look at today's handset. The Virgin Mobile Lobster 700TV is made by HTC, which is one of the most well-known Windows Mobile handset makers these days. The design is unique: the handset is asymmetrical, something you don't see often when it comes to mobile phones. Even the keypad is asymmetrical and one third is darker than the rest.
This might seem odd, but at least the colour differences are there for a reason. When you're using the TV application the 3 and 9 key works as channel up and down, while the 6 takes you back out to the channel menu. But before we get too involved with the TV functionality, let's continue with the feature tour.