Virgin Mobile Lobster 700TV
Pocket TV over digital radio
Navigation is handled by a slightly odd shaped four-way rocker switch which has a button in the middle for making selections. On each side of the rocker key are four buttons: on the left are the Home and Call button, and on the right are the Back and End-call keys. Finally, just below the screen are two soft-menu buttons. All pretty normal for a Windows Mobile 5 device so far.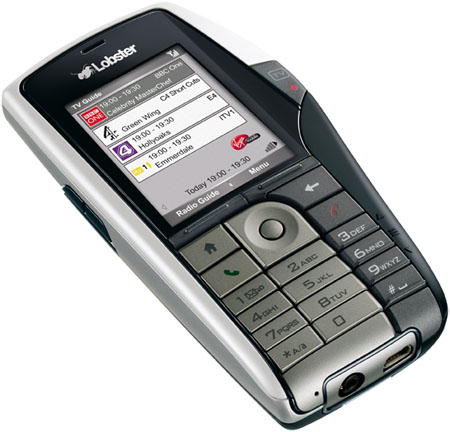 On the bit that protrudes to the right of the screen is a button labelled TV. It also doubles up as the 'red button' beloved of interactive TV fans. This allows you to access extra content via the built in web browser. Further up and somewhat to the back is the camera button. This launches the camera application - the Lobster 700TV has a flash-less 1.3 megapixel camera. The quality of pictures taken with the camera is rather lacklustre to put it kindly, but this is generally the case with most camera phones.
The left-hand side of the phone is home to a pair of volume keys. At the top is the power button and this also launches a profile menu, much as the power key on Nokia phones does. At the bottom is a 2.5mm headset socket and a mini USB port. Underneath the battery is a MicroSD card slot, although no memory card is supplied with the phone. However, with 64MB of RAM and 128MB of Flash memory, there's a fair amount of space available out of the box, compared to some other phones in the same class.
The screen is quite different to those I've seen on other Windows Mobile 5.0 phones, in as much as it has a protective plastic cover which makes it look like the screen is quite far back inside the phone. This does add some reflections, but it also protects the screen and makes it very easy to clean. The 2.2in QVGA (240 x 320) resolution screen is bright and easy to read and one of the better screens I've seen on a device this size, although it is limited to 65,536 colours.
Size-wise the Lobster 700TV is comparable to most smart phones, so don't expect to stick it in your shirt pocket unless you've got reinforced seams. It measures 11.1 x 5.8 x 2.4cm and weighs 140g so it's quite chunky, but not uncomfortably so.
The supplied headset is rather basic-looking, but the sound quality is surprisingly good and it's quite comfortable to use. There's an answer button as well as a volume control built into the microphone dongle, although this looks and feels quite cheap in comparison to some other phones' headset accessories.