Virgin Mobile Lobster 700TV
Pocket TV over digital radio
Apart from the TV and radio application, there are no Virgin-specific applications on the handset, but it comes with the standard set of Windows Mobile 5 utilities. However, a CD in the box adds ClearVue, which is a file viewing package for various Office file formats as well as modem drivers so the phone can act as a dial-up modem for a laptop over Bluetooth.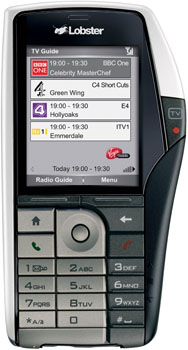 Which takes us on to the connectivity part of the Lobster 700TV. This is not a 3G handset, so you'll have to rely on GPRS for data connectivity. Nor does it have Wi-Fi. It supports Bluetooth 1.2, but there's no mention of stereo headset support. If you travel abroad a lot you'll be glad to know that the Lobster 700TV is a tri-band GSM handset and works on 900, 1800 and 1900 MHz.
So what about the TV functionality? Well, having showed the Lobster 700TV to various colleagues and friends, most though it was OK, but no one would rush out to buy one. To be fair, for watching the news it works quite well, but it's not great for any serious TV watching due to the limited bandwidth available per channel. The biggest problem is fast moving or dark scenes, as you loose a lot of what's going on due to the high level of picture compression used. It's also nigh on impossible to get good reception on the train, and this goes both for TV and Radio.
The DAB radio is excellent though and it's easy to navigate, but again suffered from poor maintained reception on the train.
So far this is more of a novel idea than something with mass-market appeal, however, the solution behind the service is sound and once the L band becomes available, allowing for more bandwidth per channel, then this might just be the way to for mobile TV.
Cost-wise you have to fork out £199 for the Lobster 700TV on pre-pay and that gives you three months of TV viewing for free and after that all channels other than the Beeb's will cost £5 a month. It's free if you get it on a contract for £25 or more a month and then the TV viewing is free for the life of the contract.
Verdict
The Virgin Lobster 700TV is a novel idea which will appeal to some. But the quality of the TV broadcasts just aren't quite good enough. As a phone the Lobster 700TV is comparable to many other Windows Mobile 5 devices, but it doesn't really stand out from the crowd. ®

Virgin Mobile Lobster 700TV
Real TV on your mobile, anywhere... as long as you can get reception, of course...
Price:
From free on contract or £200 pay as you go RRP