Garter maker touts 'sexy' thigh-mount phone holder
Willing suspender of disbelief?
I'm not quite sure why you'd want a garter belt fitted with a pocket of sufficient size to hold most popular brands of mobile phone and digital music player. Simply to avoid taking a handbag when you're out for a night on the tiles? Or because you want to tease and charm the geek in your life?
Personally, I'd like to think my TOY boy would be more interested in my stocking-clad legs and points north than in a "luxurious black velvet" pouch filled with - look but don't touch, sonny - an iPod Nano or Motorola SLVR. But maybe manufacturer A Little Lingerie Company has more of a handle on the hankerings of nerds than I do.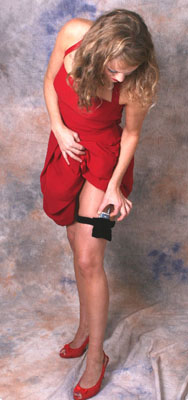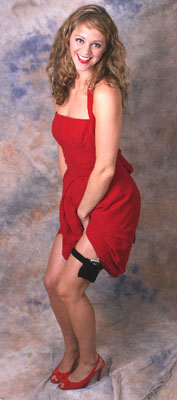 According to ALLC, "the elasticised band slides on comfortably for a smooth, seductive fit". Strap it one and "you'll feel ready for anything" - including, no doubt, the embarrassment you'll feel at hoisting up your skirt in public as you race to reach your ringing phone.
Ignore the call and passers-by will politely enquire: "Is that Robbie Williams emanating from your undergarments, madame?"
No, "ultra-sexy with slit-skirts or minis" the Cell Phone Garter may be, but this is one product that may have to stay in the bedroom.
The Cell Phone Garter costs just $34 (£18/€27) from ALLC's website. It's also available with a matching black velvet g-string.
Now, now, boys - calm down please... ®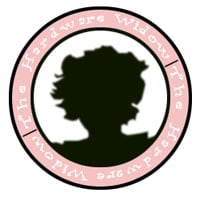 The Hardware Widow is hitched to a geek who thinks he knows more about technology than she does...
The Hardware Widow on...
Samsung's Blush mobile
The Vertu Constellation luxury phone
The OhMiBod iPod vibrator
Apple's 2G iPod Nano
Sony Vaio laptops
BenQ's 'mauve sensation' phone