Is your software free, open or litigated?
The MS/Linux patent wars begin . . .
In 2003 Microsoft hired IBM attorney Marshall Phelps to build up Redmond's patent portfolio. Phelps had overseen the growth of IBM's IP licensing operation from nothing into a multi-billion dollar business.
"You don't just get patents for the sake of getting patents," Phelps said a month before taking the job. F/OSS advocates duly took note - and began to perform a sweeping review of potentially infringing code in the Linux kernel.
Under the Microsoft-Novell deal, Novell agrees to recognize Microsoft's intellectual property claims. Novell in returns receives a "Covenant Not To Sue".
This is something that Free Software developers have been fastidiously careful not to do - and this insistence formed the basis of the FSF's successful arguments in the European Courts. Free software supporters argued that the techniques were prior art - (the patent is invalid) - or reverse engineered without reference to the original (the patent doesn't apply). Microsoft had argued that F/OSS developers could, and should, license its MCPP protocols. GNU supporters argued that they couldn't. Novell has succeeded in driving a wedge in the movement where previous attempts have failed.
Redmond can now return the the European Commission and point out that Linux can co-exist with Microsoft IP quite happily - it's only those cranks and communists who disagree. And even more importantly, Microsoft can argue that a major Linux company has implicitly recognized its IP claims.
Microsoft wanted this agreement so badly it's agreed to pay an unspecified sum to Novell for the Covenant. This might strike you as odd - and you'd be right. Companies that license intellectual property do so in the expectation that they receive a royalty, rather than dish one out. But the downstream benefits to Redmond are enormous. Novell has handed it a priceless legal filip, and as it begins to collect royalties from other businesses that use Linux, it'll doubtless see it as a worthwhile down payment.
There's much debate today on whether Microsoft violates Section 7. Novell, who may well have been poorly briefed by insisting they entered into a "Covenant" rather than a patent licensing arrangement, clearly disagree.
Today Novell boasts the following quote from Steve Ballmer to underline the deal: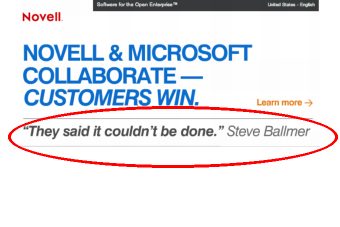 It's something we didn't think would have been possible, either. Or at least not without the decision by the massed ranks of the attorneys responsible for keeping vigilance over free and open source software to detach their brains for a week. (Perhaps they were otherwise occupied - in Sadville.
It's put pay to the view that Microsoft's patent threat would remain a phoney war, with IBM's potential threat of massive retaliation helping keep an uneasy peace. But IBM has been nowhere to be found. And the FSF's General Counsel Eben Moglen hasn't helped the cause by permitting this thought bubble to escape, and be recorded by a VNU reporter:
"Maybe it will turn out that [Novell and Microsoft] have cleared the barrier by a millimetre," mused Eben.
Oh, dear.
The patent wars have begun. ®