UK, China and Russia beat out US in race to end privacy
Unblinking third eye awards
---
A new report published by the British nonprofit Privacy International has ranked the leading surveillance societies in the world, and the results aren't pretty.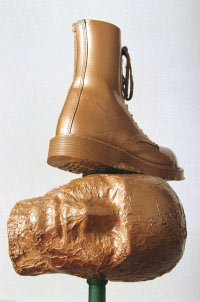 As far as benchmarks such as privacy enforcement and communications interception go, the United States has found itself in some rather awkward company, according to the survey from the privacy watchdog group. The US was ranked in the second- worst category overall in defending privacy, and at the very bottom when it came to enforcement of privacy regulations, communications interception, and workplace monitoring.
Privacy International used 13 different criteria, ranging from constitutional protections to biometric identification, to evaluate privacy protections across 36 different countries.
And the report is nothing if not graphic. The US shows up in the flaming red category, a color long associated with human rights stalwarts such as China and…uh, well, anyway, at least it did better by a hair than privacy black holes such as the UK, Malaysia, Russia and Singapore, not to mention China itself.
The accompanying report does take note of the difficulties in this age of terrorism paranoia of preserving a civil and open society. That paranoia, supported by modern high tech surveillance equipment, is providing fertile ground for governments around the globe to roll back the civil liberties once lorded over the Chinese and the Russians as triumphs of western governance.
Aloha, Big Brother. ®