Review Are you one of those people who live and die by your mobile phone? Or your PDA? Or your PSP? Does the world collapse around you when it runs out of power? Fret not, as from now on this is only a distant memory. Both Motorola and Exspect are now shipping mobile battery chargers, but are they all they're cracked up to be...
Exspect ReCharge4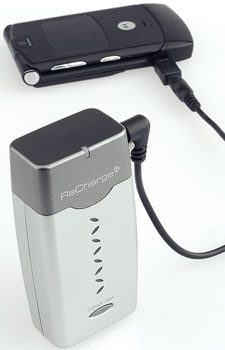 First up we have the ReCharge4 from Exspect, which is the more advanced of the two portable chargers. The two devices on test are little more than a rechargeable battery that allows you to charge the rechargeable batteries in other devices. The ReCharge4 is a two-tone silver-coloured brick-shaped device, with a row of LEDs down the front. It's hardly a cool-looking accessory, but it does the job.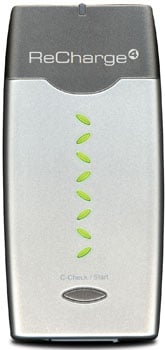 The LEDs indicate the level of charge remaining in the unit and Exspect reckons you should be able to get up to four charges out of it, depending on the device you charge. There's a small button just below the LEDs that to activate the charge check. It also turns the ReCharge4 on and begins charging whatever the unit is plugged in to.
Behind a small rubber flap on the right-hand side is a connector to which you attach the device to be charged over a supplied cable. The cable terminates in a generic connector on which you fit one of seven plugs, depending on what phone you have. Supplied are headers for Sony Ericsson - both the slightly older and the current connectors; Motorola - old style and mini USB style; Nokia - old and new type; and Samsung. The mini USB connector will work with any other phone/device that charges from this type of port.
This brings us to the ReCharge4's downsides. All the little device-connector accessories are easy to loose, although you do get a bag to keep them all in. But my biggest complaint is that the ReCharge4 is supplied with an AC charger that uses a proprietary connector. Lose it or leave it at home while you're away travelling and you're stuffed.
Exspect also offers a model with a standard USB connector for use with MP3 players and another model that targets handheld consoles. Each model retails for around £40, which seems quite expensive for what you get. Connectors for other devices will also be made available, although at the time of this review there was no sign of these, which means you have to buy a whole new charger if you want to use the ReCharge4 with both your phone and your console.
Sponsored: Ransomware has gone nuclear