Nvidia GeForce 8800 GTX graphics card
GeForce 8800 GTX = 2 x Radeon X1950 XTX
Review Are you ready for DirectX 10 gaming under Windows Vista? No? Didn't think so. Today Nvidia finally unveiled its new DX10-capable graphics chip, the GeForce 8800 - aka 'G80' - but is it worth forking out for one now, or should you wait until Windows Vista ships? Read on to find out how good the GeForce 8800 GTX really is...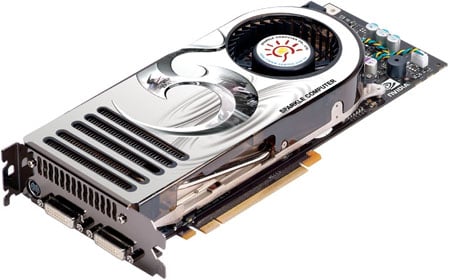 The first batch of GeForce 8800 GTX graphics cards all come out of the same Taiwanese factory and use reference clock speeds so there's very little to distinguish one 8800 GTX board from another, but Sparkle, which kindly supplied Reg Hardware with our 8800 GTX review sample, has added some neat branding to the cooler while the packaging is positively under stated. In addition to the graphics card you get Call of Duty 2, Cyberlink PowerDVD 6 (stereo version), an s-video extension cable, a breakout cable that offers s-video outpur and component-video connections, two DVI-to-VGA adaptors, and not one, but two six-pin power cables.
Only you won't notice any of those things as you will be immediately and utterly captivated by the enormous graphics card.
It's a double-slot design that measures 26.5cm from the inside of the bracket to the end of the PCB. To put that in context, the sizeable AMD ATI Radeon X1950 XTX measures 22.8cm in length.
The GeForce 8800 GTX chip is fabricated by TSMC on a 90nm process and uses 681m transistors in its design, which is a huge increase from previous designs. The 384-bit memory controller connects to 768MB of DDR memory that runs at 900MHz to give an effective speed of 1,800MHz and a memory bandwidth of 86.4GBps, but after that things start to get a bit complicated.
GeForce 8800 GTX supports DirectX 10 Shader Model 4.0 graphics and, as we predicted Nvidia Quantum Effects technology.