Nvidia GeForce 8800 GTX graphics card
GeForce 8800 GTX = 2 x Radeon X1950 XTX
Nvidia has ditched discrete pixel shaders and vertex shaders to move instead to a unified shader architecture, which it refers to as Stream Processors. DirectX 10 introduces Shader Model 4.0 and vastly increases the number of registers and textures shaders need to be able to cope with, but in addition it introduces us to geometry shaders. If you extend the architecture of GeForce 7900 and Radeon X1950 to include dedicated pixel, vertex and geometry shaders then you can guarantee that many chunks of the GPU will be lying idle at any given moment. With unified shaders - sorry, Stream Processors - it's possible to make more of the GPU work for its living. In time, DirectX 10 will also encompass physics processing as part of the workload for unified shaders, but for the time being Nvidia has enabled this feature with its Quantum Effects physics engine.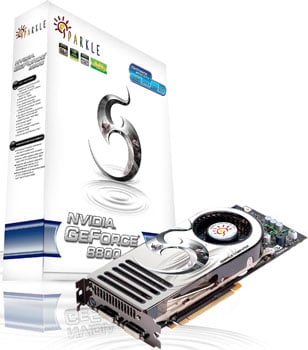 The core of the die - the dispatch and texture units and 24 ROPs - runs at 575MHz, which is the speed that Coolbits reports. However, the 128 Stream processors run at a lofty 1,350MHz.
I mentioned that you get two PCI Express power adaptors in the box, and this is where the downside of that huge transistor count bites back because the Sparkle and other 8800 GTX cards demand 140W of power. Nvidia recommends that you run your GeForce 8800 GTX with a 450W or greater PSU, which sounds incredibly optimistic to us.
In addition to the two power connectors you also get two SLI connectors, but we have yet to see these in action - only one review card arrived, alas. We plan to bring you a follow-up on SLI performance in the very near future.
The two DVI outputs are dual-link and support dual 2,048 x 1,536 at 85Hz displays or a TFT up to 2,560 x 1,600, while the seven-pin HDTV mini-DIN connector has been revised from previous versions.
To quote the Nvidia reviewer's guide, "the sweet-spot for Extreme High Definition resolution for a GeForce 8800 GTX configuration is 2,560 x 1,600 on a 30in LCD panel", which is rather like saying that Scarlett Johansson would make a good dinner date. Of course she would, but there are one or two practical obstacles to the proposition.