Nvidia GeForce 8800 GTX graphics card
GeForce 8800 GTX = 2 x Radeon X1950 XTX
It was time to play some games. We started by running Far Cry but these days it's not much of a test for high-end hardware, so we switched to Elder Scrolls: Oblivion which seems to favour ATI graphics.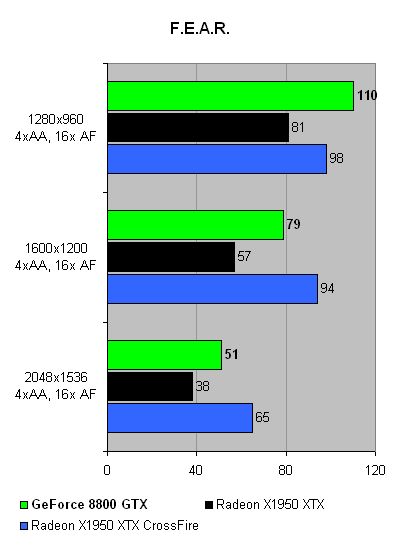 We ran FRAPS while we ran across a hillside in sunlight at Ultra High Quality with HDR enabled at a resolution of 1,600 x 1,200. As we ran we looked up at the sun a couple of times and then dived into a lake. It's a horrible test that would make most gaming rigs cry for mercy but the Core 2 Extreme and the 8800 GTX set-up handled it incredibly well.
With the Core 2 Extreme running at 2.92GHz, a single Sapphire 1950 XTX got an average frame rate of 52.7fps. Adding a second 1950 XTX in CrossFire mode pushed the average to 63.9fps, and we have to admit that the ATI hardware impressed us. Switching to the Sparkle 8800 GTX, the average frame rate climbed to a stunning 73.7fps, so we cranked the resolution to the maximum setting of 1,920 x 1,440 and saw the speed drop a tiny amount, to 73.3fps - 0.4fps difference.
No doubt Nvidia will unlock even more performance over the coming months with driver revisions, but no matter how you look at it the GeForce 8800 GTX is a stunning piece of hardware. The only shame is that so few people will be able to afford the huge selling price, a whopping £475.
Verdict
We know that only a handful of enthusiasts will spend £25 shy of £500 on a graphics card these days but that shouldn't detract from the power of Nvidia's GeForce 8800 GTX. It's deeply impressive and we can't wait for this new technology to trickle down to a more mass-market price point. ®

Nvidia GeForce 8800 GTX graphics card
Amazingly powerful - but at a mighty price - the GeForce 8800 GTX is a stonking graphics card...