This article is more than 1 year old
Wikipedia Chicken attacked
What a hen flap
A reprehensible, juvenile prank is diverting valuable time from cultivating "the future of human knowledge" - Wikipedia.
Ryan North says he wants to save the project by focusing vandals' energy on just one topic: chickens. And it's causing quite a hen flap.
"Screw Britannica and their 2.92 errors per article. Together we can build Wikipedia 2.0: the World's Best Encyclopedia, covering every topic in the universe, except chickens," says Ryan on the project page every topic in the universe except chickens.com.
Ryan reasons that the damage will be minimal because the world knows everything it needs to about chickens already. The boundaries of rooster epistemology have not only been discovered, but mapped, and then endlessly trodden and retrodden by Dubarry wellies.
"Does an encyclopedia really need an article about nature's tastiest birds? You know the answer is 'no it most certainly does not'", he says.
Whereas if you need to find lists of Star Trek characters, 80s porn stars, and every episode of Friends - then there's only once place to go.
In Ryan's idea there's a compelling piece of logic. Wikipedia is vandalised around 20 times a minute, but perhaps we can save it - by rendering it fit only for trivia. And in that goal, Ryan's not alone: he already has an army of Wikipedia administrators helping him out. You might even call this the dominant ideology of the project.
So was he a contributor, we wondered?
"I refuse to answer the second question of whether I am now or have ever been a Wikipedian on the grounds that it may incriminate me," he told us.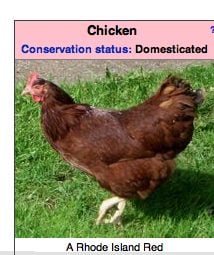 Earlier this year, Stephen Colbert satirised the notion that you could vote for the truth by inviting viewers to insert spurious facts into an entry about elephants. Viewers responded in their hundreds, forcing administrators to "lock down" the article - leaving the world bereft of up-to-the-second developments on the pachyderm front for several days.
Wikipedia administrators hailed the exercise as a success. ®