Microsoft has again found itself at the heart of a time-related SNAFU.
The software behemoth has previously tried to assume control of the fourth dimension by turning the clocks back a week early, and turning the clocks forward a few thousand years to release its new operating system Windows Vista.
This time around its Outlook email system is taking an extraordinary amount of time to sync to other email systems. As reader Jonathan Lunt explains:
While syncing outlook to our corporate email system I was rather shocked to see the "status" window informing be there was 1193046 hours remaining for the sync to complete. Thats, erm, 136 years (give or take a few days). Is this a record?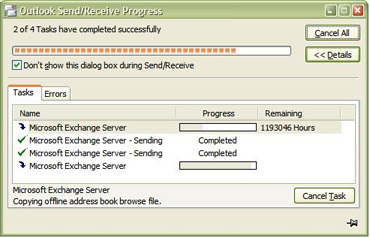 We're not sure - we'll have to wait till we try and install Vista.
Seems like Microsoft users are going to have to learn to be veeery patient. ®