Nvidia GeForce 8800 GTS graphics card
Cheaper than the GTX, but more bangs per buck?
Review Plonk a Sparkle card based on Nvidia's GeForce 8800 GTS graphics chip next to its bigger brother, the GeForce 8800 GTX - reviewed here - and you can quickly spot a couple of differences. The GTS is visibly shorter than the GTX - 23cm against 24cm - and it has a single six-pin PCI Express power connector sticking off the end, instead of the pair of side-mounted connectors that you find on the GTX...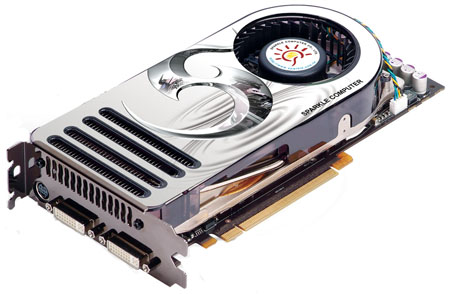 Other than that, the GTX and GTS have a great deal in common which isn't surprising as they're both based on the same 'G80' chip. The specifications tell us that the GTS board has a 500MHz core - the GTX runs at 575MHz - 640MB of 1,600MHz memory - against 768MB running at 1,800MHz. The memory controller is 320-bit job rather than 384-bit, and that cuts the memory bandwidth from 86.4GBps to 64GBps.
The 8800 GTX introduced us to unified shaders - or Stream Processors, as Nvidia likes to call them - and the GTS has also been cut back in this department. The GTX has 128 SPs running at 1,350MHz while the GTS has 96 running at 1,200MHz.
The final change comes in the Raster Operation Units (ROPs) which are cut from six in the GTX to five in the GTS. Each ROP can render four pixels so this is the equivalent of cutting back from 24 old-style ROPs to 20 ROPs, which is consistent with the other changes. The GeForce 8800 GTS hasn't been crippled but it is certainly hobbled compared to the GTX.
On the bright side, these changes mean that Nvidia recommends that you install a 450W power supply for a single GTX graphics card while a GTS only requires a 400W unit, and of course the GTS is quite a bit cheaper than the GTX. Now we're not going to sneeze at a £100 saving as it's 20 percent of the price of a GTX, but what is the impact of those changes?