Kentucky Fried Chicken reckons it's the first company whose logo is visible from space after piecing together a huge mosaic of Colonel Sanders in the Nevada desert.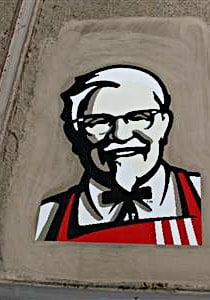 The pic of the Colonel comprises 65,000 one-foot-square painted tiles laid out on a plot near Rachel, Nevada. Gone is Sanders' traditional suit, replaced by a with-it and happening red apron.
Black helicopter aficionados among you will know that Rachel lies east of Area 51, and KFC big cheese Gregg Dedrick duly said in a statement: "If there are extraterrestrials in outer space, KFC wants to become their restaurant of choice." He added: "If we hear back from a life form in space today - whether NASA astronauts or a signal from some life form on Mars - we'll send up some Original Recipe Chicken."
Hmmm. We'd advise KFC against the extraterrestrial Original Recipe Chicken plan, because once the Martians get a taste of the company's mouth-watering poultry products, they will surely invade Earth in search of the legendary secret blend of herbs and spices recipe. Either that, or they'll destroy the whole planet from a safe distance. ®
Bootnote
The new-look Colonel Sanders is not yet visible on Google Earth, which is either a great shame or a great relief, depending on your opinion of fun-sized buckets of chicken wings and fries.