This article is more than 1 year old
UK ISP mislays domains beginning with 'C'
Legend Communications cock-up
UK ISP Legend Communications has been suffering an alphabetical technical problem over the past couple of days apparently affecting its Designer Servers customers: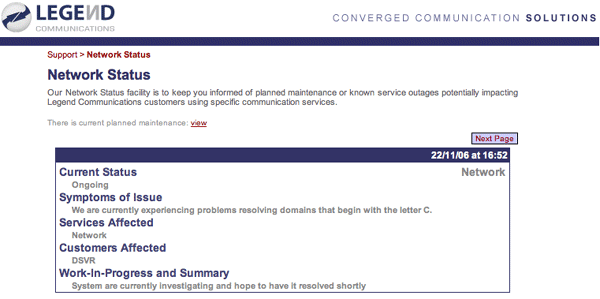 Mercifully, Legend is now part of THUS plc which boasts a "state-of-the-art next-generation network". This would explain why the latest network status report declares the issue has "now been located and the problem eradicated".
Indeed, Legend customers should note that merely mislaying domains beginning with "C" is a great improvement on previous performance. Back in September, the ISP's email, IP telephony and domain name servers were smitten by a catastrophic power outage at Legend's Docklands IP House, resulting in much wailing and gnashing of teeth. ®
Bootnote
Thanks to James Green for alerting us to the "C" emergency. According to another rattled reader - Simon Evans - the explanation for the outrage was previous explain thus: "The c section of the zone rebuild on the dns servers has gone a bit foo barred'." This, he notes, is "less than reassuring".