This article is more than 1 year old
Asus W6 leather-clad laptop
Mrs Peel's notebook?
Review Leather, a material that calls to mind, at one extreme, Diana Rigg, tight thigh-length boots, the crack of the whip and, at the other, well-worn sofas, ancient libraries and the air of long-faded wealth. Somewhere in between sits Asus' latest leather-covered laptop, the W6Fp...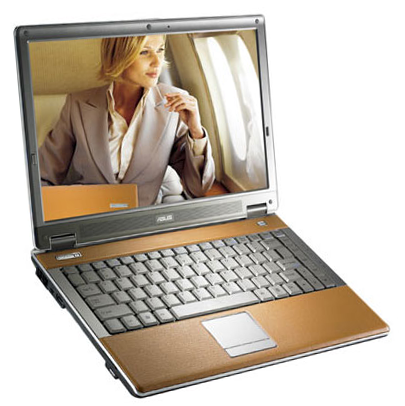 Asus might like to think so, but let's not kid - ho, ho - ourselves that the W6 is a luxury item. Just look at the colours, for starters. It's offered in a choice of pink, caramel and - the covering I got to try - chocolate brown, none of which would look quite right in a boardroom. Where's the black model, or the dark brown version? The W6 isn't entirely the Vertu of the notebook world. And Vegan it certainly isn't.
Incidentally, the application of the leather is well done. The material is bonded onto the notebook's lid, onto the wrist wrest and one to the bar just above the keyboard. The covering fits tightly and is tucked into the machine. There's no question it could get scratched or torn by a sharp object, but Asus bundles a handbag-like case to keep it in.
But back to the colours. The pink version is, well, pink. Enough said. The light-brown version has a camp quality that will suit those non-smokers who wear Camel-branded apparel and accessories in a bid to appear to be worldly and well-travelled. And the darker model? The grain on the leather is too wide, too fogeyish, frankly. It's a look that should appeal to young-old folk who attire themselves in long coats, ties, the occasional waistcoat and brown brogues. And hats.
The dark brown W6 will go very nicely in a battered leather satchel, ideally one with but a single working buckle. Slightly crusty academic? Seller of secondhand books? Would-be author? Tom Baker-era Doctor Who fan? This is the notebook for you.
Get over the looks and it can be notebook for a lot of other people too. It's got a solid spec: Intel Core 2 Duo, 945GM chipset, ProWireless 3945ABG Wi-Fi adaptor, so it's set up for Centrino certification. Asus is offering versions of the machine with 80-120GB of SATA hard drive storage, and up to 1.5GB of DDR 2 memory, though it's only clocked at 533MHz. The W6 has Bluetooth 2.0 too.


The star of the show is the machine's 13.3in widescreen display, set to 1,280 x 800 and coated with a reflective layer to boost the colours and the contrast - though at the cost of a poorer look outdoors. Asus has fitted the screen with what it calls its "splendid video intelligence engine", which amounts to a gamma adjustment and sharpness filter. Adjust if you wish, but the screen's sufficiently smart-looking for me straight out of the box.