Review You're about to launch your latest all-in-one Windows Mobile 5.0 device but need it to stand out from the plethora of similar PDAs and handhelds. What do you do? Simple, give it a quirky brand name and then tout it as the world's thinnest GPS and Wi-Fi enabled Pocket PC phone...
At least that's what E-Ten decided to do with its new Glofiish X500. According to the Taiwanese manufacturer, the two 'i's in the name represent the pairing between user and Pocket PC. Yes, well... moving swiftly on...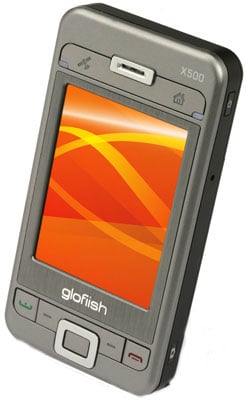 The X500 - kindly supplied by Expansys.com - is not the first fully-featured PDA to have the GPS antenna hidden inside the casing, but with overall dimensions of 11.3 x 6 x 1.6cm it's certainly one of the smallest and thinnest. It also looks rather chic with its metallic-silver finish and brushed aluminium trim around the edges of the 240 x 320 65,536-colour screen. Build quality seems excellent, and the device feels particularly solid in the hand.
In addition to quad-band GSM/GPRS/EDGE phone, the X500 features Bluetooth 2.0 and 802.11b/g Wi-Fi wireless connectivity, but no 3G or infra-red. There's even an FM radio included. A five-way navigation pad and two soft-menu buttons sit below the screen, along with the Call and End buttons. Two more hot keys are located at the top of the unit - one is reserved for E-Ten's GPS Viewer application and the other launches its M-Desk program manager software. Both buttons can be re-assigned to other apps if required.