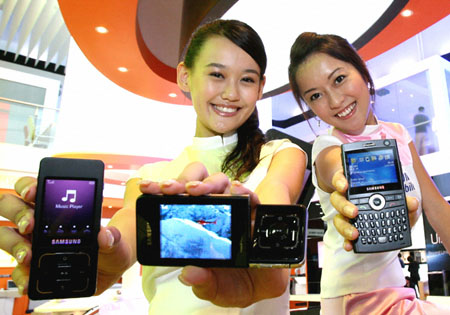 Samsung today extended its Ultra Edition line of handsets with a trio of phones pitched at specific usage models: the Ultra Music F300, the Ultra Video F500 and the Ultra Messaging i600, the latter a 3G handset that supports HSDPA-accelerated downloads.
The F300 and F500 are tri-band GSM/GPRS/EDGE devices, both fitted with a two megapixel camera and a 262,144-colour display. The F300's screen is a 2.1in, 176 x 220 panel that's touch-sensitive. Designed like a music player - the keypad's tucked away on a slider mechanism - the F300 supports Bluetooth 2.0 stereo audio - aka A2DP - a wide variety of music formats and song downloads. It has an FM radio on board too. There's 100MB on-board memory and more can be added using MicroSD cards.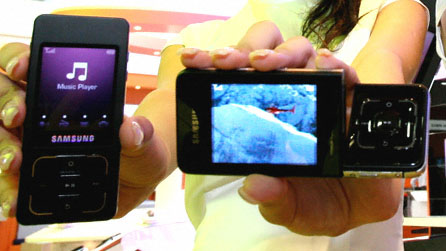 The F500 sports a 2.4in, 240 x 320 display and has a sliding keypad. It has music and video download support and the ability to handle a wealth of formats. Again, it relies on MicroSD for storage, but it ships with 400MB of built-in memory. Like the F300, it has A2DP support, albeit over a Bluetooth 1.2 link.
The i600 was unveiled earlier this year at the IFA consumer electronics show in Berlin, but it's appearance this week is the first time it's been seen with Samsung's Ultra branding.
The BlackBerry-like device has a 2.3in, 320 x 240, 65,536-colour display, QWERTY keyboard and runs Windows Mobile 5.0. It has a VGA, 300,000-pixel camera up front for video calls and a 1.3 megapixel job for photos. 802.11b/g Wi-Fi and Bluetooth 2.0 complete the gadget's wireless connectivity specifications, the latter with A2DP support. There's 64MB of RAM and 128MB of Flash ROM on board. ®