Nintendo Wii
Revolutionary?
Review It's midnight and all over the country videogames fans are freezing their butts off while they wait in line to get their mitts on Nintendo's newest - or maybe not, if they haven't pre-ordered. Yes, the Wii goes on sale today, though Reg Hardware has been lucky enough to have enjoyed the company of Zelda and co. in its warm, dry office for a few days now. And boy have we worked up a sweat...
The Wii has to be the first games console to get you up off your rump and onto your feet. Wii Sports, the game that comes bundled with the hardware, will have you swinging your arms around, punching your fists and, if you're not careful, bumping into the furniture and falling over fellow players.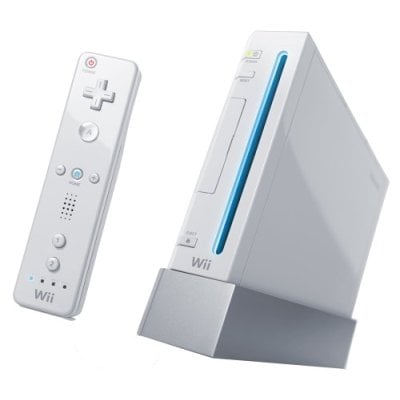 First, the hardware. The Wii is surprisingly compact, though that's as much because it runs off a separate power block - and a large one, too - as the simplicity of the internals. It's about the size of a large hardback novel. All the pre-release publicity pics sent out by Nintendo showed the Wii in its stand, which has the console thrusting up at an angle, but you can sit the machine less prominently on its base, NES-fashion, or on its side.
The power block connects into the back of the console, as does the sensor bar, which sits in front of your TV. Both plug in next to the Wii's video output port. Like the other two, it's a proprietary connector - the only standard connectors on the back are a pair of USB ports. The sensor bar's cable is long, so you should have no trouble siting the sensor beneath that wall-mounted 50in plasma screen you're planning to buy. Nintendo bundles a plastic mount for the sensor bar with a pair of self-adhesive pads on the back for sticking to the wall or your TV.
The front of the Wii is dominated by the slot-loading optical disc drive, a slash of black against the Wii's shiny iPod white fascia - though it lights up when data comes wafting on over the airwaves courtesy of Nintendo's WiiConnect24 online service. Beneath the disc drive are the Power, Reset and disc-eject buttons and a hatch that opens to reveal the SD card slot and a Sync key used to pair extra wireless remotes with the console.