Nintendo Wii
Revolutionary?
---
I found the hardest thing to do with the Remote was actually the simplest movement mode: using it as a pointer. You point the Remote at the screen - the sensor's calibrated simply by telling the Wii during the set-up process whether the detector is placed above or below your TV - but I found myself unconsciously tilting it toward the sensor instead and wondering why, in Call of Duty 3 I was staring at the ground. And the system is set so that it assumes you're holding the Remote at mid-chest height, as you might a regular TV remote.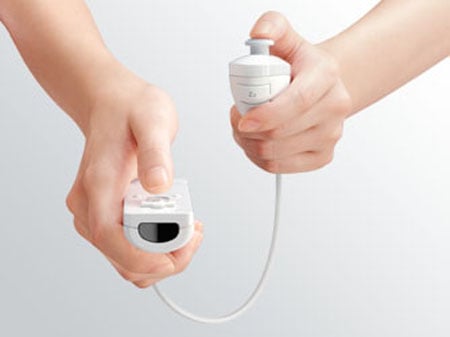 The pointer's particularly sensitive too, so it's easy to send your on-screen cursor whizzing off past the edge of the display. On a computer, that leaves your cursor at the edge of the display, but the Wii gives no such point for your eyes to locate and fix upon - its cursor disappears into the virtual space around your TV. The Wii's settings menu allows you to adjust the sensor bar's sensitivity, which helps a little.
But again it's just a learning curve that you can climb. Whether you use the Remote's pointing control to aim your rifle in Call of Duty 3 or to move characters around the screen in Wii Play or The Legend of Zelda: Twilight Princess - a bizarre title that appears to be more about rounding up goats as battling fantasy beasts - you will get the hang of it. You're helped along the way with vibro-feedback and sounds: rumbles and beeps as the cursor passes over on-screen buttons and the like to help you navigate or to prompt you to press a key.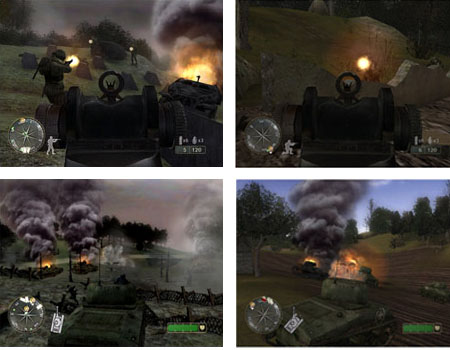 Visually, the Wii's graphics look a year or two behind the times. PC and Xbox 360 gamers might sneer at the Wii, but I found the lack of anti-aliasing and HD graphics no barrier to enjoying games on the Wii. It's about the experience not the details, and much of the experience comes from the Remote-controlled gameplay. That's not to say Wii's graphics aren't going to wow some folk, and we've probably not yet seen the titles that are going to stretch the Wii's ATI-designed Hollywood graphics chip to the full.